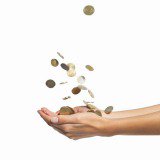 The bank war has reignited this month with loads of bribes to tempt you to switch – so it's a great time to join the hidden bank-tarting movement sweeping the UK by switching again and again to make big money.
After featuring this in last week's newsletter we've been inundated with successes, with some making £1,000+, including Anthony and his wife who've paid for Christmas and their holiday spending by netting £680 already with another £500 planned. Here's how to make a possible £600 per person in upfront cash or vouchers.
The best switching bonuses to be tartier than a Bakewell
To show what's possible, these are the top switch bonuses you'd get within a few days or weeks of the switch. If you're not sure how it all works we've full help further down (including just how easy seven-working-day bank switching is).
Some have ongoing rewards, such as free cash if you stay with the bank for a year, or monthly bonuses, but as the context here is making quick cash we've focused on upfront rewards. See Best Bank Accounts for full details plus info on each account.
Switching bonuses come and go, so make sure you're signed up to our weekly email to see when banks offer new bonuses, or raise, lower or end their incentives. And if you too have made big money, let us know how you've done.
The secrets to becoming a bank tart
If you want to put the time, effort and financial discipline in to become a bank tart, here are the need-to-knows...
Switching bank is easy (according to 76% in our Twitter poll). You need to use the banks' official switching services. It then takes seven working days and the new bank does the hard work by closing your old account and moving all direct debits and standing orders.

It also ensures payments going out of or into the old account are redirected for at least three years. There's a credit check for each application but it's not too harsh (see below for more on the effect of bank tarting on your credit score).
Consider setting up a second account as a switching mule. You could just keep switching your main account, yet that can be annoying. A mule account is a second account you set up just so you can switch it. Just open it without the switching service, so it doesn't close down your existing account.

For the first mule account, best to avoid any accounts that may offer you free switching cash, so you don't disqualify yourself from using them. Then just open your bonus account by switching this mule account.
How to hit the minimum pay-in. Many accounts require you to pay in a set amount each month, in an attempt to get you to pay your income in. But there's nothing stopping you just moving cash (manually or by standing order) into an account to hit it.

For example, you get paid £1,500/mth, and have two accounts with £1,000 min pay-ins. Get your salary paid into one, then a couple of days later use a standing order to move it to the other, then another standing order to move it back. If you don't earn enough to hit the pay-in just move a lesser amount in twice.
How to create easy direct debits. As you can see above, many accounts require you to switch some direct debits – you could simply set up £1/mth direct debits to charity to do this (and give a little back too).
Beware of your credit score. Switching bank regularly can impact your creditworthiness, as the applications will show on your file, suggesting a lack of stability. Done sensibly it's not usually a big deal, but if you've an important need for credit (like a new mortgage), hold off for six months beforehand.
You can be reset as a newbie. Some banks (not all) will let you get a switch bonus even if you've been their customer before. For example, HSBC counts newbies as those who haven't had a current account with it since 1 January 2015, so if you had one before then you can still benefit.