A new debit card which lets you connect your existing debit and credit cards to it and can help with budgeting has now launched – but there are a couple of drawbacks to be aware of before you get one.
If you have a Curve debit card you can link all of your existing Mastercard and Visa debit and credit cards to it using the Curve app, to do your spending via the one card – though you can't connect Amex cards to it.
You can see all of your spending in the app, which is available for iOS and Android, and it can also be used as a way of spending on your credit card in places that don't officially take credit cards. Yet there are a few pitfalls to watch out for, including the loss of Section 75 consumer protection and overseas fees.
Curve was previously only available to business owners and had about 100,000 users. It has now launched nationwide, and anyone can sign up to the 50,000-strong waiting list.
For more information on the best card for you, see our Credit Cards guides.
What are the pros of Curve?
Curve is simply a debit card, so there's no current account with it and no hard credit check when you apply.
Here are some benefits of using Curve:
Change the card you've used up to two weeks later. The card lets you do your everyday spending on it, and has a feature which lets you 'go back in time' by up to two weeks, to change the card you used for a purchase. This could be useful if you accidentally use the wrong card, or want to manage your credit.
Lock your card and get PIN reminders in-app. If you lose your card, you can freeze it in the app, and unlock it later if you find it again. You can also get a PIN reminder by entering your password or using your fingerprint ID in the app (see our Password Security guide if you're worried about keeping your password safe).
Earn rewards with existing cards – and there's a trick to get extra points. If you have an existing card that rewards you for ALL spending, such as a Santander All in One or TSB Platinum Purchase credit card, you can still earn these points or cashback using Curve. Plus, you can withdraw up to £200/month cash and charge it to your card as a purchase, earning rewards for doing so – though Curve has told us that "cash recycling" is not permitted, and it wouldn't recommend this as a regular way of earning extra rewards.

You won't earn points using Curve if your card only rewards you for spending in certain retailers, for example, a debit card that gives cashback for a few shops only, so it's worth being aware of that.
Use your credit card where it's not normally accepted. As Curve is a debit Mastercard, you can use it at shops and other places which don't accept credit cards and then charge it to your credit card. This is particularly useful if you've a rewards credit card that'll earn you points, and means for example that you can continue to pay your HMRC tax bill or shop in small retailers that no longer accept credit cards.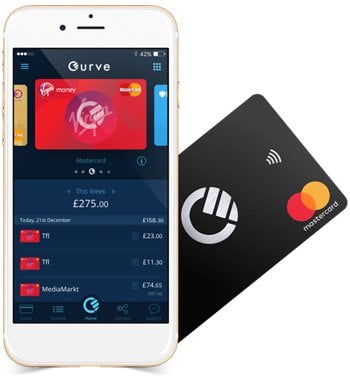 What are the cons of Curve?
While it does have several plus points, there are some things you need to be aware of when using Curve:
There's no Section 75 credit card protection. Normally when you buy something costing between £100 and £30,000 and pay for any of it on a credit card, you get Section 75 protection which means your card firm's jointly liable with the retailer if things go wrong (see Section 75 for full info). Using Curve invalidates this protection, though you will still be able to use Mastercard's chargeback scheme.
You'll pay fees for overseas spending and cash withdrawals. If you use it abroad, Curve uses the Mastercard exchange rate, but charges a 1% fee on top. It also adds a £2 charge for overseas ATM withdrawals. You can avoid these by getting a top travel credit card such as the Halifax Clarity or Platinum Travel Barclaycard, which charges no spending or ATM fees and uses the Mastercard exchange rate.
Amex cards can't be connected. So if you have one of the Amex Rewards or cashback cards, which feature in our top-pick reward cards, you won't be able to use Curve and earn points or cashback. As we say above, you also can't earn rewards with certain existing cards that only give you offers with particular retailers if you spend on them via Curve.
So should I get it?
Curve is a good option if you're happy with your existing bank and credit cards, and want to see all of your spending in one place to help manage your money. It can also cut down the number of cards you carry around with you – though you should always take at least one back-up option.
The card itself won't actually save you money or, for now at least, earn rewards. You must also be aware of the potential pitfalls that come with using it – particularly the lack of Section 75 protection – and the fact it's possible to get better features with other cards such as fee-free overseas spending and rewards with Amex.
How do I apply for Curve?
To get one of the cards you need to:
Download the Curve app, which is available on Android and iOS.
Sign up for a card. There's currently a waiting list of about 50,000 people, but you can boost your place by inviting friends.
Once registered, you can add your existing cards to the app, and set a default card. You can add any Mastercard or Visa debit or credit card to the app, and some prepaid cards including Revolut and Monzo, though not Amex cards.
You then use your Curve card for all spending, and can change the card you use for each purchase. The app gives real-time notifications, and shows all of your transactions in one place.
The main Curve card is free to get and use in the UK, and the company has told us that there are no plans to introduce fees, though this could of course change in future.
A Curve spokesperson said it'll be launching a new rewards scheme in the coming weeks – we'll let you know if it's decent when we have details. There is also a premium version of Curve, which costs a one-off £50 to get.
Existing customers with the premium version get boosted reward offers, but it remains to be seen what the new rewards programme will be.