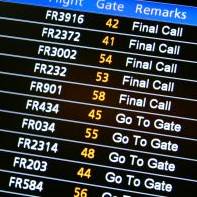 More than 100 flights have been cancelled after London City Airport was closed when an unexploded WW2 bomb was found. If you were due to fly, here are your rights.
Passengers have been told not to go to the airport if they have a flight booked today (Monday 12 February), after yesterday's discovery of the bomb in King George V Dock, which is very close to the runway.
The Metropolitan Police and Royal Navy have set up a 700ft exclusion zone around the bomb, but it's not yet clear when they will be able to disable the device and reopen the airport.
For full info on your rights with flight delays and cancellations, see our Flight Delays guide.
I was due to fly from London City Airport - what should I do?
Under EU rule 261/2004, if your flight is cancelled the airline must give you a choice of two options - regardless of the reason for the cancellation and how much notice you're given.
You can choose between:
A full refund. This includes money back for both legs if you have booked a return ticket and either of your legs are cancelled.
An alternative flight. If you still want to travel, your airline must find an alternative flight. Depending on the passenger's preference, this has to be a) at the earliest opportunity, or b) at the passenger's leisure, subject to the availability of seats.
So in the first instance contact the airline to see what help it is able to offer - you should not be charged for switching to an alternative flight. If you need to fly from a different airport the airline should either arrange your transport or cover reasonable costs - so ask about this when rebooking your flight before deciding how you will get to the new airport.
Here are the websites and contact numbers:
Am I due compensation?
Under EU rules airlines must often pay additional compensation for cancelled flights if the cause was something within their control.
However an unexploded WW2 bomb is outside of the airline's control and so the chances of being eligible for compensation for this are pretty much non-existent.
What are the rules regarding alternative flights?
If your flight's cancelled and you choose an alternative flight, the Civil Aviation Authority says this could include an alternative flight on a rival airline, if this is earlier than the first alternative flight by a "significant" amount of time.
Unfortunately there's no set definition of what a "significant" amount of time is, and this hasn't been tested in court.
If there's an alternative flight on a rival airline which would get you to your destination much earlier than the alternative flight you're offered, you should ask to be put on that flight instead.
But if the airline says no, it's tricky. While you could book yourself on the rival airline and try to claim the money back, there is no guarantee you'll be successful – and again, as far as we're aware this hasn't been tested in court.
What if I've lost out on hotels, car hire etc?
Flight cancellations or delays can have a large number of knock-on costs, and unfortunately the EU rules don't cover what's known as 'consequential loss' – ie, if you've booked non-refundable hotels, car hire or other parts of your holiday and are unable to use them because your flight's delayed.
As an alternative, it's worth checking if you're covered on your travel insurance.