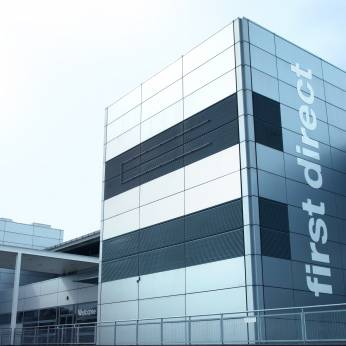 First Direct has again taken the crown in our banking customer service poll with nine out of ten giving it top marks, but RBS retained its wooden spoon with almost a third rating its service 'poor.'
Almost 7,000 current account customers responded to our latest survey, with a stonking 91% of those who rated First Direct saying its service was 'great' - 1% more than the previous survey. The bank, part of the HSBC group but run separately, has topped every customer service poll we've ever done since 2010.
Meanwhile, 29% of those who graded Royal Bank of Scotland (RBS) rated its customer service 'poor', with just 28% deeming it 'great'. This is the second time running it has claimed last place in our poll.
Nationwide retained its place as runner-up, again ahead of Co-op Bank and Smile (part of the same group), but TSB moved up to fourth, switching places with Santander. Tesco Bank claimed sixth place, ahead of Halifax, which remained steady in seventh.
Interestingly, challenger banks Starling and Monzo received 'great' scores of 91% and 78% respectively - suggesting they're giving traditional banks a run for their money. We haven't included them in our results table below, however, as both received just 42 votes each.
If you're unhappy with your bank's service, take action and switch. See our Best Bank Accounts guide for more information.
The results in full
We survey MoneySavingExpert.com users twice a year to see how they rate their bank's customer service. Here are the results from our February poll:
Current account customer service rated
Rank
Provider
'Great'
'OK'
'Poor'
1 (1)
First Direct
91% (90%)
7% (7%)
2% (3%)
2 (2)
Nationwide Building Society
77% (74%)
18% (20%)
5% (6%)
3 (3)
Co-op and Smile
63% (68%)
29% (24%)
8% (8%)
4 (5)
TSB
62% (64%)
30% (27%)
8% (9%)
5 (4)
Santander
61% (63%)
31% (30%)
8% (7%)
6 (N/A)
Tesco Bank (i)
57%
32%
11%
7 (=7)
Halifax
51% (50%)
36% (39%)
13% (11%)
8 (N/A)
Clydesdale & Yorkshire Bank (i)
48%
32%
20%
9 (10)
Barclays
45% (43%)
37% (42%)
18% (15%)
10 (=7)
Lloyds
45% (50%)
34% (37%)
21% (13%)
11 (8)
NatWest
42% (47%)
39% (39%)
19% (14%)
12 (9)
HSBC
41% (46%)
38% (37%)
21% (17%)
13 (11)
RBS
28% (37%)
43% (42%)
29% (21%)
There were 6,812 votes. Ranked based on two points for each 'great' %, one for each 'OK' % and zero for 'poor'. When scores are tied, the bank with the better 'great' rating goes ahead. We've excluded banks with fewer than 100 votes. Results and rankings for August 2017 appear in brackets. (i) Tesco Bank and Clydesdale & Yorkshire Bank didn't receive enough votes to appear in our previous poll.
What do the best and worst scorers say?
Joe Gordon, head of First Direct, said: "First Direct's been pioneering amazing service since 1989 but, in more recent years, where mortgages, current accounts, credit cards and loans are becoming increasingly commoditised, concentrating on traditional customer service, crucial as it is, isn't enough.
"Customer service is now more than person to person. It now starts on social media, it starts on the website, on the apps. It's about being human without always having human contact – being easy to do business with, caring about customers, being playful even. Businesses need to constantly evolve, but you must always put the customer experience above all else."
An RBS spokesperson said: "Our own customer feedback is helping us to listen, learn and react quickly to customer concerns and also to better understand what we are doing well. When we ask our customers about our branches, telephone service, digital service, products and people, we compete strongly. For example our award winning mobile app is highly rated by our customers.
"While we know we still have much to do, we're making progress and we are working hard to become the number one bank for customer service."