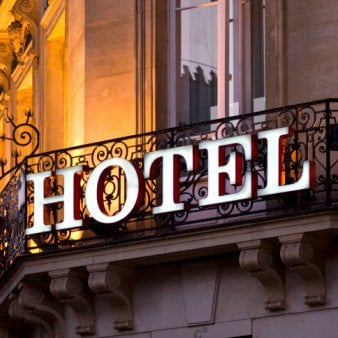 Search results on hotel booking websites often fail to show the total cost of your stay, leaving travellers struggling to compare prices and find the cheapest overall deal, a MoneySavingExpert.com investigation reveals.
We found at least five brokers and four comparison sites sometimes show a price on their initial search results page that is LESS than what you'll actually have to pay once taxes and resort fees are factored in. Travellers only discover the true total later in the booking process, when they can be asked to pay £100s more - in one example we looked at, a six-day stay cost £275 extra.
Our findings come as the competition watchdog, the Competition and Markets Authority (CMA), continues to look at whether charges are being made clear to customers. Its ongoing investigation into hotel booking sites was announced last October, yet more than seven months after the threat of action some sites are still failing to make all costs clear upfront. The CMA told us it was so interested in our results it's now asked us to submit them to inform its work.
The brokers (ie, sites which handle bookings) which we found don't always show the total cost upfront were Agoda, Getaroom, Netflights, Travel Republic and Zenhotels. We also looked at four comparison sites (ie, sites which list prices but you click through to another site to book). All four of these - Kayak, Trivago, TravelSupermarket and Skyscanner - failed on at least one occasion to include taxes or resort fees for the cheapest listing on their initial search results.
Our findings are only based on a snapshot sample of 55 search results pages, but with the full cost being made clear upfront on just 27 of those listings, it's clear travellers should be wary of the first figure they're shown on some sites. In the wake of our investigation, several sites told us they're looking at ways to improve the way they present prices, and one - Kayak - claimed it has already fixed the issue.
For full help on the cheapest way to book a hotel, see our Cheap Hotels and Cheap UK Hotels guides.
'The price shown upfront may NOT be what you actually pay'
Guy Anker, deputy editor of MoneySavingExpert.com, said: "Our investigation shows that ridiculously you simply can't always trust the first figure you're shown.
"It's confusing for customers and makes doing a meaningful price comparison very hard. And as a result, many travellers may end up paying much more than they need to because they struggle to find the cheapest deal.
"Long-term, the solution's simple. The price you're first shown MUST be the total, including extra fees - even fees that have to be paid at the hotel. If that's not happening, the competition watchdog should act to make sure that it does.
"This doesn't mean you shouldn't use these hotel brokers and comparison sites when booking a room - they may still work out cheapest overall, and can narrow down the search for you. But it's worth an extra click to be sure."
Our investigation in full: how booking sites fail to show the full cost upfront
OK, so this bit's pretty technical... but we wanted to show our working. To check if travellers are shown the total cost of a hotel stay at the start of the booking process, we examined a total of 55 search results listings - ie, the page you're first shown on a hotel broker or comparison site when searching for availability of hotels in a specific location on a specific date:
We checked the cost of five hotels - one in each of Amsterdam, Athens, Las Vegas, Orlando and Rome - looking at listings for one room for one or two people over a six-day period, checking a variety of dates between August 2018 and March 2019.
We checked nine brokers - Agoda, Booking.com, Ebookers, Expedia, Getaroom, Hotels.com, Netflights, Travel Republic and Zenhotels - and four comparison sites - Kayak, Skyscanner, Travel Supermarket and Trivago. On the comparison sites we looked at the cheapest price quoted, and whether it reflected the full cost of booking via that broker.
Of the 55 listings returned - not every hotel was listed on every site - we found:
On 27 occasions the full cost of the hotel stay WAS made clear on the search results page - though in some cases extra fees were shown in a different currency.
On 23 occasions the full cost WASN'T made clear on the search results page. The total cost including taxes and resort fees - especially those paid locally at the hotel - was only shown later in the booking process.
On 5 occasions the full cost was hard to spot on the search results page - it only appeared if you clicked a button to open a pop-up window showing taxes and fees.
Here's an example of how the total cost of a booking can jump after the initial search results page.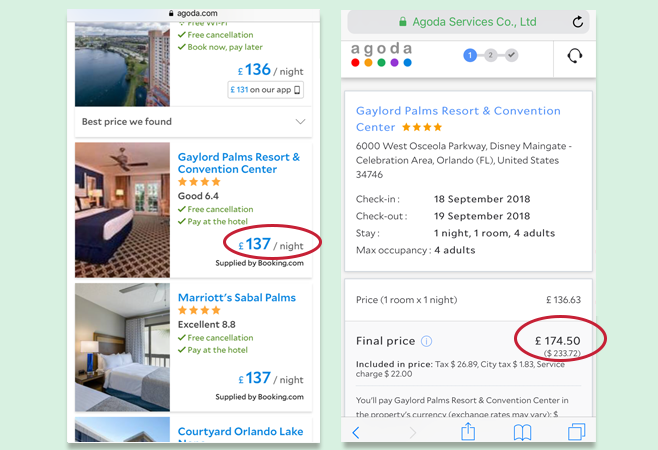 The screenshot on the left, from an initial search results page on Agoda, shows the cost of a night at the Gaylord Palms Resort & Convention Centre in Orlando as £137. The screenshot on the right, from later in the booking process, shows the price rise to £174.50.
Three brokers DID show the full cost upfront
Our investigation found Booking.com, Hotels.com and Expedia did show the full cost of a hotel stay on their first search results page.
With Booking.com the full total including extra fees was always shown very clearly on the first page.
Hotels.com and Expedia also made the full cost clear on the search results page, but they separated out extra costs payable at the hotel and showed these in the local currency, so you need to do some quick arithmetic to work out the total.
The screenshots below show how the price does not increase on Booking.com between the initial search and final payment page:
Initial search prices at Booking.com always included extra costs, as the above screenshots show.
Five brokers DIDN'T always show the full cost upfront
Agoda, Getaroom, Netflights, Travel Republic and Zenhotels DIDN'T always show the full cost on the search results page.In one case on Agoda we found over a six-night stay in Orlando you could end up paying £275 more than shown on the search results page.
Agoda didn't display all fees by default on the search results page for three of the four hotels we checked. When we contacted it, Agoda said it is possible to get the site to include all fees within the initial listing if you click the '£' sign at the top of the page and then switch from "base price per night" to "total price for night".
Both Getaroom and Zenhotels displayed prices which didn't include extras such as taxes and resort fees on the search results page of listings we checked. There was a warning about extra charges part way down the second page, and those charges were displayed on the final booking page. Getaroom told us it "prominently displays and discloses ALL fees that the consumer will pay for before accepting any payment", while Zenhotels said it "always publish [sic] the relevant information about taxes and fees at the hotel page."
With Netflights we found extra charges were sometimes included on the search results page - but not in the case of the Las Vegas hotel. In that case, a compulsory resort fee was mentioned on a second page after the initial search results page, though not on the final booking page. Netflights said: "When resort fees or taxes are due locally, these cannot be added to the total price at point of purchase. We are always looking to improve our customer booking journey and price transparency is something we work very hard at."
Travel Republic displayed a base price on the search results page for the four hotels we found on it. After clicking through to a second page we were shown a prominent warning that "where local taxes apply these will be displayed on the booking form", and details of these prices were then included on the final payment page. Travel Republic told us: "Including the resort fee from the beginning of a hotel search is something we are looking into."
With one broker the full cost was hard to spot
On Ebookers the full cost couldn't be seen by default on the search results page on the listings we checked. The only way to see it was to click a button next to a warning about "tax and fee info", in which case a pop-up window would appear setting out the extra charges. These extra charges were also displayed on the final payment page.
Ebookers told us: "Any locally payable fees, such as hotel imposed resort fees, are displayed to our customers throughout the booking path. We are however in the process of updating some aspects of the website to make this information even more prominent."
Four comparison sites DIDN'T always show the full cost of the cheapest option upfront
When looking on comparison sites, we looked at the cheapest price quoted for each hotel - and checked whether it was actually the full cost you'd pay if you clicked through to use that particular broker. On Trivago, the cheapest price included all taxes and resort fees only one out of five times. On Skyscanner, it did so two out of four times we found the hotels listed, on TravelSupermarket, three out of five times and Kayak, three out of four times we found the hotels listed.
We also found that in some cases when a comparison site listed a number of brokers for a single hotel, some of the prices would include taxes and resort fees and others wouldn't, creating a potentially unfair comparison.
When we looked at this in detail for one hotel - the Excalibur Hotel and Casino in Las Vegas - we found that one comparison site, Skyscanner, actually ended up showing the WRONG broker as cheapest as a result.
It showed Zenhotels as cheapest for a six-night stay, at £527, but when we clicked through, there was an additional $291 to pay for a resort fee and occupancy tax, making the total cost around £705. However other sites listed by Skyscanner as less competitive actually beat this total price - Booking.com, for instance, was listed on Skyscanner as £616 and that was the final cost.
What do comparison sites say?
A Skyscanner spokeperson said: "While in most markets suppliers send us the total price of a hotel - minus city tax, which varies greatly - in the Americas region, such as in the case of Vegas you share, some suppliers include resort fees, others do not.
"Unfortunately this is an issue we're not alone in facing in the industry. Our aim is to make travel search simple, so rest assured that we have a team actively working on ways to bring uniformity and clear differentiation of pricing for hotels in the Americas."
Matt Walls, general manager at TravelSupermarket, said: "The inclusion of city or resort fees within the prices displayed is something we are in talks with our hotels partner on. There is room for more clarity on this issue, across the industry. We are currently exploring options on how we can make this information more up front for customers."
A Kayak spokesperson told us it had investigated the issues we raised with it and had resolved the issue. Trivago did not respond to our requests for comment.