Barclays lets customers block gambling transactions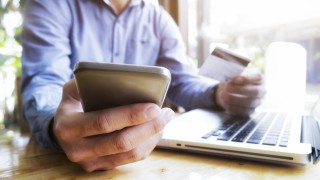 Barclays has become the first UK high street bank to allow you to block payments to certain categories of retailer, such as gambling services and premium rate phone lines, in a bid to help vulnerable customers.
Customers can choose categories of retailer to 'turn off' by pressing a button in the Barclays mobile app, or via telephone banking or going into a branch. If customers try to make a payment to a retailer they've previously turned off, it will be automatically declined.

Barclays developed the feature with input from debt charity the Money Advice Trust, and building on evidence from the Money and Mental Health Policy Institute, the charity set up by MoneySavingExpert.com founder Martin Lewis. It says the feature will particularly benefit those with mental health issues and addictions and those who rely on a carer or guardian to handle their finances, while helping all customers take control of spending.
Barclays follows app-based banks Starling and Monzo in introducing a gambling blocker. While Barclays and Starling allow customers to remove the block instantly, Monzo requires 48 hours' notice to lift the restrictions.
If you're among those battling with mental health and debt issues, or you know someone who is, see where to go for help in our free Mental Health and Debt booklet.
Martin: 'I hope other banks will follow suit'
Martin Lewis, founder and chair of both MoneySavingExpert and the Money and Mental Health Policy Institute, said: "Mental health and debt is a marriage made in hell. Many with mental health issues struggle to control their spending – whether through gambling, shopping or premium phone lines – and I commonly hear from people with thousands of pounds of debt as a result.
"This is one reason why I set up the Money and Mental Health Policy Institute charity – and its detailed research shows the power of giving people more options for control tools that can add 'friction' to this type of spending.
"I want to applaud Barclays for being the first major bank to sit up, take note and act. I believe it will make a real difference to people's lives and I hope the other banks will follow suit."
In a further Facebook post today explaining why 'friction' matters, Martin added: "Making something more difficult to do slows people down, and gives time to consider. This is important when you're dealing with impulse control.
"It has long been used in other sectors, eg, blocking pharmacies selling people more than 32 paracetamols makes it more difficult for someone to buy enough to overdose. Of course people can go to more than one store, but the conscious act of having to do that because people are trying to prevent it is a barrier.
"With blocking gambling transactions (or premium phone lines as Barclays also allows) on a card, the fact you chose to do it, adds an emotional significance to working around it – ie, you've committed to not gambling, and now you're changing.
"So friction is just as much a behavioural blocker as a transactional one. It isn't perfect. It won't stop everything, yet hopefully it is another tool to help people control themselves."
How does the feature work?
Barclays used research and advice to identify five categories of retailers which customers wanted help in managing:
Groceries and supermarkets.

Restaurants, takeaways, pubs and bars.

Petrol and diesel.
Gambling, including gambling websites and betting shops.
Premium rate websites and phone lines, including 0870 numbers (mostly used for sales calls), 09 numbers (used for live entertainment, competitions, TV voting and adult lines) and 118 numbers (including directory enquiries). Customers will be able to block purchases from these services, though not calls to the numbers.
You can turn off payments at the push of a button in the 'Merchant Control' section of the Barclays app, pictured below: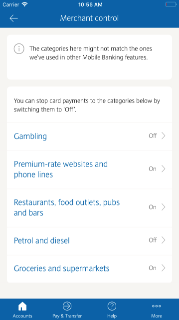 Alternatively, if you don't use the app you can request the block in branch or via telephone banking.
If you later want to reactivate payments to a certain category of retailer, you can do this by turning the category back on in the app, by using telephone banking or by visiting a branch.
What does Barclays say?
Barclays managing director Catherine McGrath said: "We are always looking for new ways to support our customers and make it easier for them to manage their finances.
"We work with a range of advisers and partners, as well as consulting with our customers, to identify how our customers' needs are changing and what works for them.
"This new control feature is the latest new service that we have introduced in the Barclays mobile banking app that aims to give all of our customers a better way to manage their money in a simple, secure and effective way."
For all the latest deals, guides and loopholes simply sign up today – it's spam-free!
Join the MSE Forum discussion