Booking a holiday with Thomas Cook, Tui etc? How to make sure you're protected
Travel firms have been facing turbulent times due to factors such as Brexit uncertainty – but if you're booking a trip, here are some simple steps to boost your protection.
Update 20 September: See our Thomas Cook worries? Here's what you need to know story for the latest information.
Thomas Cook has been trying to reassure worried customers that their holidays are safe after it announced a £1.4 billion loss – it says it's taken steps to strengthen its financial position. Some passengers have been contacting the tour operator though, after it announced its half-year results on Thursday, with many fearing for their trips and flights.
Other firms have also reported challenging trading conditions. Easyjet and Tui have announced some losses in their half-year reports this month – though both said these were in line with expectations.
Of course, we don't have a crystal ball when it comes to the future of the travel industry or these firms, but the tips below will help in the unlikely event that the worst were to happen – and are good practice whoever you book with.
See our Holiday Rights guide for full info on protecting yourself when booking a trip.
Booking a package holiday with a flight? You'll be ATOL-protected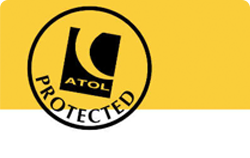 Package holidays that include a flight are covered by the Air Travel Organiser's Licence (ATOL) scheme. Look for the ATOL protection sticker when checking the details of your holiday.

ATOL protection means that the following protection applies in the unlikely event that the tour operator, or the travel company that created your package, stops trading:
If you haven't travelled yet, you'll be given a full refund or a replacement holiday.


If you're already on holiday, the scheme will make sure you can finish your trip and return home.
If you book an ATOL-protected holiday, you'll receive an ATOL certificate along with your booking – make sure you double-check you've received it. The Civil Aviation Authority has examples of ATOL certificates.
The ATOL scheme focuses on protection if your tour operator, or the firm that created your package, goes bust. But package holidays also give you extra protection, which means your tour operator, or the firm that created your package, is responsible for making sure you get the holiday you paid for.
So in the unlikely event your airline went bust, for example, it would sort things out. See our Holiday Rights guide for more.
Booking a DIY package? You may also be protected
If you book the different elements of a holiday (eg, flight, hotel, car hire) separately, as a DIY package, you MAY also be protected – but it depends on exactly how you booked:
If you buy the different elements separately via the same website (or shop or call centre) in the same transaction, you get exactly the same protection as with a traditional package holiday. If your holiday includes a flight, you'll have ATOL protection – if not, it'll be covered under another scheme such as ABTA (see more on this below).


If you buy different elements of a holiday separately in multiple transactions, but in the same visit to a website or shop or the same telephone call, or if a firm arranges for you to buy another element in a targeted manner (such as via email) within 24 hours, you also get some level of protection. The official jargon is 'linked travel arrangement', and you should be told you have this when booking.

This only protects you if the company that sold you the holiday goes bust while it has your money, and not if the hotel, airline etc it's dealing with goes bust.


With most other DIY bookings, you're not covered. If you book everything independently, you're unlikely to have any kind of package or linked travel arrangement protection.

The rules defining exactly what kind of holiday you have for protection purposes are complicated and there are exceptions to the rules above, so unless you're 100% clear where you stand, ask.
The protection above applies to holidays booked from 1 July 2018. Before then, the rules were slightly different – see our Holiday Rights guide for more info.
Booking a package holiday without a flight? Check for ABTA protection instead
For package holidays without a flight, you'll still be protected, but this time it'll be under the ABTA scheme or similar (there are a few much smaller ones).
This means you'll be able to get a refund (or get home if already abroad and your package included return transport) if the firm you booked through goes bust. (We're checking whether ABTA also gives you the option of a replacement holiday instead of a refund, and will update this story when we hear back.)
Just booking a flight? It's unlikely you'll be ATOL-protected
If you have a flight-only booking direct with an airline, it WON'T usually be protected via ATOL. So in the unlikely event that the worst were to happen, you couldn't rely on ATOL cover and would instead need to check for other protection such as travel insurance or your credit card – see below for more info.
But sometimes flight-only bookings have ATOL protection. With Thomas Cook, for example, whether flight-only bookings are ATOL-protected depends on exactly how you booked. If you booked via Thomas Cook Tour Operations, your flight will be ATOL-protected – if you booked with Thomas Cook Airlines, it won't be.
If you book an ATOL-protected flight, you'll receive an ATOL certificate along with your booking – so if you're unsure, that's the best way to check.

Help protect yourself by paying by card
Even if your trip won't be protected by ATOL (or ABTA or another scheme), you could still be covered if you pay for your booking using a debit card, or a credit card if it costs more than £100.
If you pay by credit card for flights costing £100+, you'll be protected under Section 75 of the Consumer Credit Act, meaning the card company's equally liable, and you may be able to claim your money back from it in the unlikely event a company goes under.

This only applies if you book directly with the firm and the transaction is more than £100. See our Section 75 guide for more.


For flights costing less than £100 or if you pay by debit card, you may also be able to claim money back from your card provider, through the chargeback scheme.

Unlike Section 75, the chargeback scheme isn't a legal requirement, it's just a customer service promise. But it's worth trying and we've seen successful claims from people using it. See our Chargeback guide for full details.
Buy travel insurance as soon as you book – but not all policies cover you if a firm goes bust
We can't stress this enough. You need to book travel insurance as soon as you book your trip, to ensure you're covered in case anything goes wrong beforehand. See Cheap Travel Insurance for full help.
It's worth noting that in the unlikely event a travel firm goes bust, your travel insurance is only likely to cover you if it includes specific failure cover – and even then, this will only come into play if you're not covered by ATOL, ABTA or similar. If this is something you're worried about, make sure you check your policy includes this before buying.
What about hotels, car hire and other costs?
If the worst were to happen and you're unable to travel, you may lose out if you'd booked extra accommodation or activities that you now won't be able to use.
If this concerns you, you can try looking when booking for hotels etc that allow free cancellation – though you can sometimes pay more for this option.
You could also check if your travel insurance would cover you, as some more comprehensive policies give you 'abandonment protection' for consequential losses – though it's not guaranteed.
Occasionally, we've heard of people trying Section 75 to claim for consequential losses, so you may also wish to pay by credit card if the transaction is over £100. But this isn't guaranteed, so don't bank on it.
This is an updated version of this story – the original included inaccurate information about the ATOL protection offered when booking via a third-party travel agent. This has now been corrected.
For all the latest deals, guides and loopholes simply sign up today – it's spam-free!
Join the MSE Forum discussion