Mr Motivator joins Arnie for last-chance PPI campaign
With just over two months to go until the PPI complaints deadline, the financial regulator has enlisted '90s icon Mr Motivator to join Arnold Schwarzenegger's animatronic head in urging consumers to make a claim.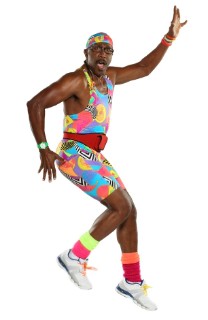 Consumers have until 29 August 2019 to make a complaint about mis-sold PPI and potentially claim back cash.
The Financial Conduct Authority (FCA) says £35.3 billion has been paid out in PPI claims since 2011 – and just last month we spotted the largest payout we've ever seen, as one couple received an astonishing £175,000.
With the deadline to claim rapidly approaching, the FCA has brought back Arnold Schwarzenegger's animatronic head for its final ad campaign. In this series of ads, Arnie appears in a hydraulic press, urging consumers to take action on PPI before it's too late.
The regulator's also assembled a 'Pressure's on Panel', which includes Mr Motivator, personal finance expert Sarah Pennells, finance blogger Skint Dad and the Money and Pensions Service.
The panel members will play different roles in the campaign – for example, Mr Motivator will share PPI-related content on social media channels, while Sarah Pennells will offer tips and advice. The FCA's confirmed the ambassadors will be paid for their support, although it hasn't said how much.
If you've been mis-sold PPI, the clock is now ticking. See our Reclaim PPI for Free guide for full help.
What is PPI and how do I reclaim?
PPI was an insurance policy sold when you got a loan, credit or store card, catalogue account, overdraft or car finance. It's designed to cover your loan or credit card repayments for a year in the event of an accident, sickness or, in some cases, unemployment.
In itself, it isn't a bad product. But it was widely mis-sold and now, because of a ruling called Plevin, even just having had it means you're likely due some cash back.
The original mis-selling has left many paying thousands for potentially worthless cover – and you could even have had it without knowing (see our Mis-selling Checklist for full info).
Remember, you do NOT need to pay a company to reclaim PPI for you – see our Reclaim PPI for Free guide for full help.
What does the FCA say?
Emma Stranack, the FCA's PPI deadline campaign lead, said: "With just over 10 weeks to go, time is running out to claim back money for PPI.
"Simply put, if you haven't complained to your provider by 29 August 2019, you won't be able to claim money back for PPI – so you should make your decision as soon as possible."
For all the latest deals, guides and loopholes simply sign up today – it's spam-free!
Join the MSE Forum discussion