BA passengers disrupted by baggage system chaos – here's what to do if you're affected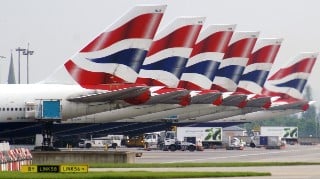 Some British Airways passengers travelling from Heathrow Airport were forced to queue for hours today due to a fault with the baggage system, with some arriving at their destinations without their luggage –here's what to do if you're affected.
The issue began at about 8am and meant airline staff had to check in luggage manually rather than using the faster automatic systems.
Long queues were reported at Heathrow Terminal 5, with faults also occurring at Terminal 3 as well as Gatwick Airport, according to the Press Association.
British Airways says "a small number" of flights also left without all the baggage loaded, although it insists most bags will be with their owners within 24 hours.
My bag hasn't arrived – what can I do?
If you've arrived at your destination but your bags haven't, British Airways says you'll be reunited with your luggage "as soon as possible".
You should get an email or text from BA letting you know your bag's been delayed – but if you haven't heard anything, you should report your missing bag to a member of staff at the airport or using BA's online form (you'll need your booking reference and the numbers on your checked baggage receipt).
In the meantime, if you have to buy any essentials such as toiletries because your bag's been delayed, make sure you keep any receipts so you can claim back the costs later.
You'll also be able to claim for any damage to your bag or its contents, any missing items, or for any baggage that's missing for more than 21 days.
You can make a claim via the British Airways website.
What if I had other expenses?
We've heard from one passenger who missed her booked transfer from her arrival airport, as she was queuing to find out what happened to her bag.
If you've been left out of pocket as a result of the baggage issues, make sure you keep hold of any receipts. You could then try to reclaim your costs.
It would be worth including any extra evidence you have, such as the details of your original booking, and information such as the amount of time you were queuing for.
You could also check if you're covered under your travel insurance.
What does British Airways say?
A British Airways spokesperson said: "We have now resolved a baggage issue that slowed down our customers dropping off their bags for a short period this morning.
"We apologise to those customers affected after a small number of flights left without all baggage loaded. We're in contact with those customers and their bags will be put on a flight to them as soon as possible."
Additional reporting by the Press Association.
For all the latest deals, guides and loopholes simply sign up today – it's spam-free!
Join the MSE Forum discussion