Your bank account's 'available funds' can no longer include your overdraft from today
Rules coming into force today mean that a bank can no longer include your overdraft when telling you your 'available balance' or 'available funds'.
The changes, being brought in by the Financial Conduct Authority, make it clearer that overdrafts are a form of debt rather than a customer's own money. They also help tackle confusion that may lead consumers to dip into their overdraft accidentally.
The new rules are part of an upcoming wide-ranging shake-up of overdrafts. From 6 April 2020, banks and building societies will be stopped from charging higher prices for unarranged overdrafts – where you go over your overdraft limit – than for arranged overdrafts. Fixed daily or monthly fees for borrowing through an overdraft will also be banned.
Many banks, including HSBC, First Direct and Monzo, have responded to this by upping overdraft rates. However, there are still 0% overdrafts available – for details, see our Best Bank Accounts guide.
For help in beating overdraft costs, see our Cut Overdraft Costs guide.
How will balances be displayed under the new rules?
The idea behind the new rules is to make it clearer to customers that an overdraft, even if agreed, is a debt. So in a nutshell, your available balance will only show how much money you actually have in your account, and won't include any overdraft facility you've agreed.
The actual overdraft you have on your account ISN'T changing, so if you have an agreed overdraft you're still able to use it – but when you log into your bank account or use an ATM it won't be counted as part of your available balance.
Here's an example to explain:
Let's say you've an agreed overdraft of £500 and you're £100 into your overdraft – so you owe the bank £100. Previously, many banks would have shown your 'available balance' as £400. But under the new rules, your balance will be shown as -£100, highlighting the fact you owe the bank – even though you can still spend another £400 if you need to before hitting your overdraft limit.
Some banks have also told us the new balance would take into account any pending payments – for example, if you've paid for something on your debit card but the transaction hasn't yet appeared on your statement.
Individual banks may display balances differently from others – but to give you an idea of how this could look when banking online, let's suppose you're a Lloyds customer with £1,000 in your account, a pending transaction for £10 and a £500 arranged overdraft facility. Here's how it would look currently: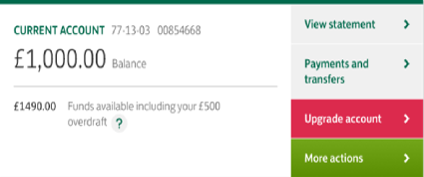 And here's what it would look like after the changes come in. 'Funds available' of £1,490 has changed to a 'balance after pending' of £990, with a separate overdraft limit of £500 – though the amount of money you actually have is unchanged: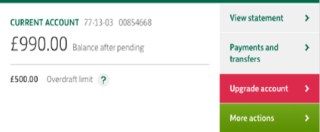 For all the latest deals, guides and loopholes simply sign up today – it's spam-free!