Winter is coming: Our hot tips to cut costs before the big chill, include don't fix energy rates, free flu jabs and more
The nights are drawing in, the weather's turning and we've just seen the official end of British Summer Time. So this is our annual checklist to help you cut costs as the mercury drops, but it's even more important this year amid rocketing energy costs.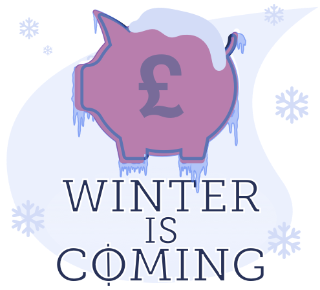 Our top tips below include £54 breakdown cover, cheap boiler cover, free cuppas and we answer whether you should keep heating on low all day? Here's how to keep the winter bill blues at bay...
This article was originally written by the MSE team for our weekly email on Wednesday 27 October. It has today (Tuesday 2 November) been updated by the MSE team.
1. Martin's warning: Energy firms are pushing you to fix... don't. In fact
DO NOTHING.
Over to our founder: "The energy market is in crisis, wholesale prices have exploded. Firms are being forced to sell energy substantially below its cost price, due to the energy price cap on standard variable tariffs. And I'm starting to hear that firms' marketing departments are therefore kicking into gear to try to persuade people to take up other tariffs.
"Expect to get fancy letters extolling the virtues of fixing - tapping into switchers' instincts as if these were normal times, when that was the right thing to do. No surprise, they are desperate to get people off the price cap. Yet as a consumer, fixing now is almost certainly NOT the right thing to do (I can't say 100% without a crystal ball, but it's my very strong suspicion).
"The cheapest fixes cost 30%+ more than the price cap - a huge premium, when you consider the price cap is in itself fixed until April. If you're on it you're essentially locked in at the cheaper price over the high-use winter period. So DO NOTHING, and if you've never switched, you'll be on the price cap. If your fix is coming to an end, or your provider has gone bust, DO NOTHING and you'll automatically be moved to the price cap.
"If you want to see the price differentiation for yourself, do a Cheap Energy Club comparison."
2. Energy firm hiked your direct debit? Make sure it's proportionate - and
challenge

it if not.

Energy prices are rising, so it's normal for firms to raise your monthly direct debit by a similar percentage to cover those increases. Yet some MoneySavers have told us they've seen their direct debits double recently - even when they're in credit. But you can fight back as everyone has the right to a 'fair' direct debit, so ask your energy firm to justify massive increases, and ask for it to be lowered if your supplier can't do that. See how to challenge energy direct debits.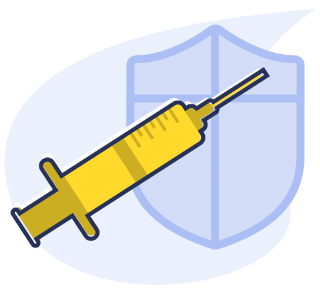 3. Check if you qualify for a
free flu jab

- or where to get it for £8 if not.

The NHS says flu vaccination is important this year because fewer people will have built up natural immunity during the pandemic. Some eligible for a Covid booster shot will be offered a flu jab at the same time, but if not, see if you qualify for a free flu jab, or where to get it for £8.
4. Is it REALLY cheaper to leave the
heating on low all day

?

With energy prices so high an obvious cost-cutter is to use less. Common sense tells us that wearing layers instead of putting the heating on, or turning off lights, will help save on energy bills. But some tips are less clear-cut - such as whether it's cheaper to leave the heating on all the time, or to paint radiators black. We've looked at these and 16 other common energy conundrums in our Energy mythbusting guide.
5.
Slash boiler cover costs

, plus full home cover for £10.25/month.

You don't need to get boiler cover from your energy provider - and you may not need to get it at all, as most new boilers are reliable. Plus, self-insuring via an emergency fund can work well. But for older boilers or heating systems, it may be a sound investment...
Use a comparison site to get boiler cover from £3/mth. Our top-pick comparison site is uSwitch*. Plus add MoneySupermarket* and Gocompare for a wider spread of providers.
Full home emergency cover for £10.25/mth. MSE Blagged. Newbies to British Gas's Homecare service can buy via this Homecare Four* link by Thu 4 Nov and get a year's boiler, central heating, electrics, drains and plumbing cover for £10.25/mth (normally £18.50/mth) or £111/year. This price also includes a boiler service, which can cost £60-£80. After year one, you'll pay the higher price unless you cancel.
Even if you don't want to switch provider, you may be able to haggle a better deal. See our Cheap boiler cover guide for full help.
6. Warm your cockles with
free cuppas

from high-street chains including Nero and Costa.

See how O2 and Vodafone customers can bag free tea and coffee. Or instead, grab the freebie and give it to someone sleeping rough.
7. Check if you qualify for £140 off energy bills with the
warm home discount.
This is a one-off payment of £140 on your electric bill which'll be applied by March. Most who were receiving the pension credit benefit on 4 Jul will get it automatically (provided your energy supplier is part of the scheme). Plus, some on means-tested benefits may also qualify - check our 2021/22 warm home discount info for full eligibility criteria, including how it works if your energy supplier recently went bust.
8. Cut car breakdown costs -
full service cover £54/yr.
There's always a spike in breakdowns in winter, and the consequences feel more severe if it's cold and wet. Here's how to get covered cheaply:
Full service cover from £54/yr. For breakdown, home start and onward travel cover, newbies going via our AutoAid* link pay £53.99 for a year's cover (it charges £59.99, then you get an automatic £6 cashback within 60 days), or £68.99 after the cashback if your car's 16 years old or older. It covers any car you, your spouse or civil partner drive, and has been our top pick for over a decade. See full info on this and other options including basic policies in our Cheap breakdown cover guide.
Don't want to switch? HAGGLE. In our most recent poll, 82% of AA and 83% of RAC customers reported getting lower rates after haggling. Jayne told us:

"Phoned RAC and saved £120 on the renewal, plus got a 15-month policy instead of 12. So worth it."

See Breakdown cover haggling.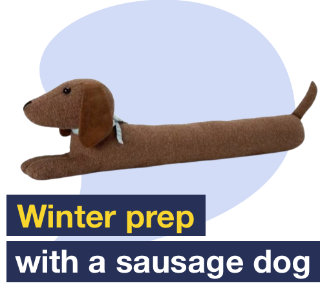 9. Stay toasty with a
DIY sausage dog.
With no savings to be had by switching to a cheaper energy provider, some simple draughtproofing can help beat the cold and cut bills. Thrifty tips include making a sausage dog draught excluder, lining your curtains with fleece or blocking draughts with a 'Chimney Sheep' - see thrifty heat-saving tips. Plus, on the MSE Forum there's the Winter Prep thread, where MoneySavers share ideas.
10. Find where your
stopcock

is.

Everyone should know where theirs is - it's the mains water off-switch. Winter is a crucial time, as if your pipes freeze and burst, you'll need to turn the water off to prevent huge damage, which can cost thousands to repair. See how to turn your water off.
11. Having to choose between heating and eating? There's
help available.
Emergency pandemic rules mean your supply can't be cut off and prepay customers can get emergency credit. Your supplier may also be able to offer payment reviews, breaks or reductions if you're struggling.
Then check if you qualify for further help with energy costs. And make sure you're getting everything you're entitled to with our 10-minute benefits check-up and do a money makeover to check you're not overspending.
For all the latest deals, guides and loopholes simply sign up today – it's spam-free!
Join the MSE Forum discussion