Financial regulator to punish banks and building societies that don't protect people's access to cash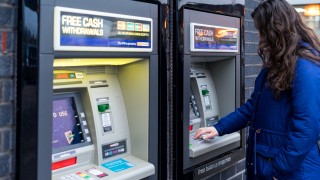 New powers will be given to the financial regulator allowing it to fine banks that fail to protect consumers' access to cash. Here's what's happening.
Under the new 'Financial Services and Markets Bill' banks and building societies will have to ensure cash withdrawal and deposit facilities are available to customers in communities across the UK.
It's unclear exactly how this will work in practice. But the Financial Conduct Authority (FCA)'s previous ideas have included being given the power to ensure that people in certain communities - especially those without a bank branch - will have access to at least:
Free-to-use cash machines. This will help ensure local communities have access to take out cash.
Deposit facilities. Establishments, such as Post Offices and banking hubs, will be encouraged to help provide communities and their businesses the ability to deposit cash.
Over 5 million people rely on cash in their daily lives and it's the second most frequently used method of payment in the country. But because UK high streets have lost over 5,000 banks in the last decade - only yesterday Lloyds Banking Group announced the closure of 28 more branches, for example - the Government has now stepped in.
See our Best Bank Accounts guide for the top deals if you're looking to switch. Alternatively, if you're thinking about moving to online banking but aren't sure where to start, see our Top App-Based Bank Accounts guide.
You don't need a bank branch to deposit or withdraw cash
Customers of some of the UK's largest retail banks and building societies are already able to deposit and withdraw cash from the Post Office's 11,500 counters nationwide.
The ability to use Post Office banking services has also been extended until at least the end of 2025 following an announcement made by the firm earlier this year. Visit our news story to check if your bank's services are available via the Post Office.
The Post Office also allows customers to check their balance and pay in cheques. Use the Post Office's branch finder tool to locate your nearest.
For all the latest deals, guides and loopholes simply sign up today – it's spam-free!
Join the MSE Forum discussion