Two in five borrow from credit cards, overdrafts or family and friends to pay off buy now, pay later purchases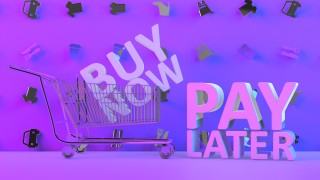 More than half of 18 to 34-year-olds are borrowing money to help pay off their buy now, pay later debt (BNPL), according to research from charity Citizens Advice. If you're struggling to pay what you owe, we've things to try to see if they help.
The findings from Citizens Advice show that more than four in ten (42%) of all age groups using BNPL have had to take out another form of debt to pay off what they owe, with the problem more acute among younger borrowers.
The other forms of debt taken out to pay off the original BNPL loan were:
26% used a credit card.
9% used their bank's overdraft facility.
7% borrowed from friends and family.
A smaller percentage used payday loans.
Dame Clare Moriarty, chief executive of Citizens Advice, said: "Shoppers are piling borrowing on top of borrowing, and sinking into ever more desperate situations that can feel impossible to escape from."
BNPL, which is unregulated, allows consumers to pay for purchases in instalments, or at a later date with no interest charged. Clearpay, Klarna, Laybuy and PayPal - along with several banks - all offer the service to consumers and it's often easy to be accepted.
You can find out more on how BNPL works and what to look out for in our BNPL guide.
Tips if you need to borrow or are struggling with debt
BNPL is a form of credit, so it makes sense to consider whether BNPL or a more traditional form of credit could be more appropriate but before you spend, it's best to remember Martin's Money Mantras - if you answer no to any of these, don't buy:
NOT SKINT? Ask yourself:
- Will I use it?
- Is it worth it?
SKINT? Ask yourself:
- Do I need it?
- Can I afford it?
If you answered yes to those questions, and you need to borrow to buy, don't automatically plump for BNPL. Make sure you've considered all the options:

A 0% spending credit card. If done right these cards are the cheapest way to borrow - but get it wrong and you'll be stuck in debt for years. It's important to follow the three golden rules:

1. Pay at least the set monthly minimum and stick within the credit limit, or you may lose the 0% rate.
2. Aim to clear the card during the 0% period.
3. Don't balance transfer or withdraw cash.

Right now M&S Bank offers a 24-month 0% credit card, but check out our Top 0% Credit Cards guide for more and use our free Eligibility Calculator to show your chances of being accepted.
Switch to a bank account offering a 0% overdraft. Overdrafts are debts – one of the most expensive. But 0% overdrafts could be beneficial for those looking to pay off a more expensive debt in the short-term.

- First Direct offers many a £250 0% overdraft, which could be good if you just slip in to the red each month.
- Nationwide's FlexDirect Account offers new customers a 12-month 0% arranged overdraft up to £2,750. What limit you get depends on your credit score - but it's best if you'll be able to pay off your debt within a year.

See our Top 0% Overdraft Bank Accounts guide for more info.
If you've multiple debts, there's help available. If you've many different debts you're trying to pay off, or you've struggling to solve your debt problems on your own, it's important to seek help.

The best place to start is by talking to a non-profit agency, the main ones being Citizens Advice, StepChange and National Debtline. They'll be able to talk you through your options and offer free and impartial advice.

Also take a read of our Debt Problems guide, which includes tips on ways to sort your spending and cut the cost of your debt.
'BNPL is a form of debt, and it's one that needs to be repaid on the lender's timetable, not yours'
Helen Saxon, deputy editor at MoneySavingExpert.com said: "Many people who take out a BNPL agreement see it as an easy way to spread the cost of something. Yet, BNPL is a form of debt, and it's one that needs to be repaid to the lender's timetable - not yours.

"Citizens Advice's survey shows that more than a third of those who took BNPL agreements, which are usually interest-free, paid it off using a credit card or overdraft which isn't likely to be interest-free.
"This may be a product of the frequency with which you have to make repayments with some BNPL providers, which is often every two weeks, or bi-monthly, whereas a lot of people are paid monthly, meaning budgeting to make repayments can be difficult.
"Always think before taking out a BNPL agreement - and indeed before taking out any debt - whether you'll be able to repay it when it's due."
Buy now, pay later remains unregulated for now

The Government has proposed regulation for the BNPL sector, but this is yet to come into force. This means you aren't offered valuable protection you'd get with traditional forms of credit:
You can't complain to the Financial Ombudsman. The Ombudsman can only look into disputes about firms and products that are regulated – so if something goes wrong with your BNPL agreement - you won't be able to take your complaint to the Ombudsman.
For all the latest deals, guides and loopholes simply sign up today – it's spam-free!
Join the MSE Forum discussion