Asda launches first-ever loyalty scheme offering discounts on groceries – here's how it works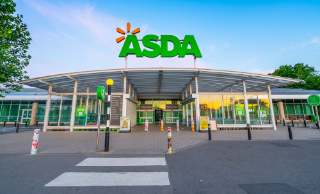 Asda has rolled out its 'Asda Rewards' loyalty scheme nationwide after trialling it in a small number of stores in England. The move means shoppers across the UK can now earn money-off vouchers to use at the supermarket chain.
Update: Friday 30 September 2022: Asda has changed the way you redeem 'cashpot' vouchers in store. You'll now need to scan your digital rewards card, then also individually scan the vouchers you want to redeem (previously, vouchers were redeemed automatically at the till when you scanned your card).
The change means you can choose when to redeem vouchers – but it also means there's a risk you'll forget to use them before they expire, so keep a close eye on your app to ensure you don't miss out.
The process for redeeming vouchers online hasn't changed; these will still come off your next shop automatically.
The scheme – Asda's first-ever loyalty programme – was trialled at 16 stores in West Yorkshire and the West Midlands starting in October 2021. It was later expanded to cover 48 stores, and is now available across all 633 of Asda's UK stores. Below we explain how it works.
You can also see our Supermarket shopping tips guide for 20+ tools and tricks to slash food bills, and read our Loyalty points boosting guide for how to make the most of reward schemes.
How to earn Asda Rewards
First, you'll need to download the Asda Rewards app, which is available for free from the Apple App Store and Google Play Store. From there, you can register as a newbie, or sign in with your existing account if you've previously shopped online with Asda.
Then, you can earn 'cash' rewards known as 'Asda Pounds' when shopping in store and online. Just ensure you scan the app at checkout in store to earn rewards. Online, once registered, just log in to your account and shop as normal.
Here's how to earn rewards – you can use all three methods in the same transaction if you like:
By buying certain 'star products'. These are a mix of branded and Asda own-brand items. You can see a full list in the dedicated section of the Asda Rewards app, but they're also marked when you're shopping at Asda.com.

Examples we've spotted today include: 50p back on a triple pack of McVitie's jaffa cakes, 10% back on a 10-pack or 30-pack of Young's Omega 3 fish fingers and 10% back on Asda's 1kg bag of baby potatoes.


By completing 'missions'. These give you a set reward when you complete them and are usually based on hitting a certain spending threshold or buying a certain number of items within a given timeframe – though don't use this as an excuse to overspend.

For example, when we checked on 12 August and again on 23 August we saw that you could: spend £50 by Friday 30 September to earn £1.50, buy five health and beauty products by Wednesday 24 August to earn £2 and buy 10 packets or pieces of fruit and veg by 24 August to earn £1.50.


By using the Asda Money credit card. This pays 1% back on everything you spend on the card at Asda and 0.3% on non-Asda spending. There's also an introductory offer of 2% back on Asda spending for your first 60 days if you apply before Sunday 28 August. Cashback earned from the credit card goes into the Asda Rewards app 'cashpot' from where it can be redeemed. See our full Asda credit card analysis for more info.
You can redeem Asda Pounds in store and online – but they expire after six months
Any Asda Pounds you earn will go into a 'cashpot' inside the app. From there, you can convert these into money-off vouchers to redeem on your shopping in store and online. Once you've created the voucher, it's applied to your basket automatically when you scan your card at the till in store or at the checkout online.
You'll need to convert your Asda Pounds into vouchers within six months of earning them, as they expire after that. Vouchers will then normally last a further 30 days before expiring – though this can vary so you'll need to keep an eye on the expiry date of each voucher in the app.
How Asda Rewards compares with other big supermarkets' loyalty schemes
Asda is not the only supermarket hoping to attract loyal shoppers by offering a rewards scheme. While it's tricky to compare schemes directly as they all work differently, here's what some of the other big names offer:

Morrisons has done away with points and now offers coupons and discounts via its My Morrisons scheme.
Sainsbury's allows people to earn Nectar points on their shopping at a rate of one point per £1 spent, with each point worth 0.5p. Users can also earn bonus points on some items. It also offers personalised discounts via its 'SmartShop' feature.
Tesco's Clubcard also gives you one point per £1 spent, though here each point is worth 1p (and can be boosted). Having a Clubcard also lets you access lower prices on some items in store and online.
For all the latest deals, guides and loopholes simply sign up today – it's spam-free!
Join the MSE Forum discussion