How I made a £35 Christmas hamper with the 'wow' of a Fortnum & Mason one (and you could do it for even less)
'Tis the season to fill trolleys, and when Christmas bells ring and shop tills ding it's very easy to find yourself tempted to overspend. So when I decided to give hampers as gifts this year, I set myself the challenge of assembling a Champagne-style selection on an egg nog budget...
Obviously, there are endless things you could include in a Christmas hamper. The two most important things for me were to firstly choose items the recipient would love, and secondly, I wanted it to have the 'WOW' factor of something a lot more expensive - I was aiming for a 'Fortnum & Mason' style - so I set my budget at £35. Not a trivial amount, but as hampers go not pricey either (and way cheaper than any hamper from Fortnum's).
However, what's great about hampers, apart from the fact it can be a really nice personal gift for someone, is you can make them on pretty much any budget, large or small, simply by tailoring what you include.
Here's what I included in my hamper…
Posh department store Fortnum & Mason is arguably the Rolls-Royce of the Christmas hamper world, so I took my inspiration from the crème de la crème. Some of its top-end hampers cost £1,000s, and even its most simple hampers, the kind I was trying to imitate, cost £100 or more. It's particularly well-known for its fancy tea and biscuits, with packets and tins in the brand's signature 'Eau de Nil' duck egg blue colour, so these were things I knew I definitely wanted to include if I could find the right items at the right price (and I did).
Add a Christmas pud and some bubbly (the alcohol's optional, of course), and you've got yourself a fabulous box of festive treats. There's a table showing what I bought below - in total I spent £35.77, so a bit over budget (sorry Martin!) but you could easily cut costs if you already had a basket, or by eliminating one of the dearer items.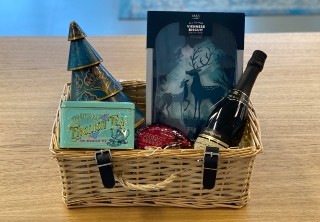 How you could make it cheaper...
I'm very aware some of my choices weren't strictly as MoneySaving as they could've been. This isn't the absolute cheapest hamper you could make – I was looking for the right balance of expensive-looking-but-affordable produce to bring a little 'Fortnum & Mason' pizzazz to my Christmas gift-giving, on a small-to-medium budget. If you've less to spend, or just want to make it extra MoneySaving, use a basket or box you have lying around at home. You could also remove the alcohol and replace it with a cheaper alternative like sparkling cordial.
You could also take out one of the biscuit tins (two of my priciest items, but I loved the look of them so much I had to include both). You'll also want to be sure the items fit properly inside the basket, especially if you're planning to post it - though be aware this will likely be very costly, so budget accordingly.

Will you be making MoneySaving hampers this Christmas? How will you be making them extra special? Let us know in the comments below or on Facebook.


Have your say
This is an open discussion but the comments do not represent the views of MSE. We want everyone to enjoy using our site but spam, bullying and offensive comments will not be tolerated. Posts may be deleted and repeat offenders blocked at our discretion. Please contact fbteam@moneysavingexpert.com if you wish to report any comments.