Just Milk Deals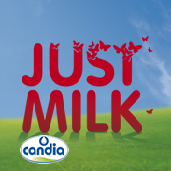 We don't currently have any Just Milk deals.
Latest Expired Deals
FREE £1.40 Just Milk lactose-free milk

Click & print coupon valid at Sainsbury's only

Sign up to the newsletter at lactose-free milk brand Just Milk to be sent a link for a printable coupon for a free 1L bottle of lactose-free milk, norm £1.40, valid at Sainsbury's only. The link to print the coupon won't be sent immediately, Just Milk says it will be sent within two weeks.