If you click a link with an * to go through to a provider, we may get paid. This usually only happens if you get a product from it. This is what funds our team of journalists, and keeps us free to use. Yet there are two crucial things you need to know about this.
This never impacts our editorial recommendations – if it's in, it's in there because we independently rate it best.
You'll always get as good a deal (or better) than if you went direct.
For a more detailed explanation see How MSE is financed.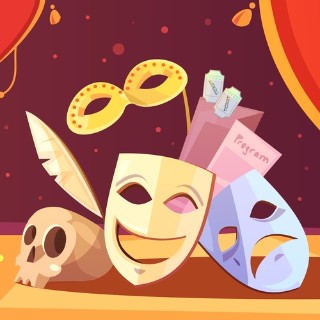 We don't currently have any London Theatre deals.
Latest Expired Deals
£10-£50 London theatre tickets

40+ shows including Back To The Future, Disney's Frozen and Only Fools & Horses

Theatre lovers can get £10-£50 tickets for over 40 London theatre shows, including many biggies such as Back to the Future, Disney's Frozen, Agatha Christie's The Mousetrap, Only Fools & Horses and Wicked – see the full list.

You can book online at Official London Theatre – its 'Show Time' promotion is an extension of its popular New Year sale, which usually ends in February, but this year it's been extended for performances through March.

Tickets are available for matinée, evening, and some weekend performances until Thu 31 Mar, though we expect the cheapest tickets to go fast, so it's best not to hang about if you want to take advantage of this deal.

There are 190,000 discounted tickets available which are spread randomly across all dates and shows. Tickets for specific performances are dependant on availability and limited per performance – so it could be pot luck finding the show you want on a particular date.


Not all shows will offer tickets at the lowest price point of £10, and the cheaper tickets for the more popular shows are likely to go very quickly.

Seats are discounted based on their price tier, so the amount of saving on the normal price will vary per show and per seat. £10 tickets will usually be the cheapest normal-priced seats in the theatre, and £50 tickets will be the top-priced (non-premium) seats.

Travelling by train? See MSE Kelvin's Cheap train tickets guide.

& Juliet – £20, £30, £40, £50
Alarms and Excursions – £10, £30
Back To The Future: The Musical – £20, £30, £40, £50
The Ballad of Maria Marten – £10
The Choir Of Man – £10, £20, £30, £40, £50
Andrew Lloyd Webber's Cinderella – £20, £30, £40, £50
Cinderella: The Awesome Truth – £10
Come From Away – £20, £30, £40, £50
Dear Evan Hansen – £30, £40, £50
Death Drop – £30, £40
Dirty Dancing – £40, £50
Doctor Who: Time Fracture – £20, £30, £40
The Drifters Girl – £30, £40, £50
Disney's Frozen – £20, £30, £40, £50
Get Up, Stand Up! The Bob Marley Musical – £20, £30, £40, £50
The Great Gatsby – £20, £30, £40
Habeas Corpus – £30
Jersey Boys – £20, £30, £40, £50
Life Of Pi – £20, £30, £40, £50
Disney's The Lion King – £20, £30, £40, £50
Magic Mike Live – £30, £40, £50
Mamma Mia! – £30, £40, £50
Mary Poppins – £20, £30, £40, £50
Matilda The Musical – £40, £50
Les Misérables – £20, £30, £40, £50
Agatha Christie's The Mousetrap – £10, £20, £30, £40, £50
A Number – £20, £30
The Ocean At The End Of The Lane – £10, £40, £50
Only Fools And Horses The Musical – £10, £20, £30, £40, £50
Our Generation – £30, £40
Persuasion – £20
The Phantom Of The Opera – £20, £30, £40, £50
The Play That Goes Wrong – £20, £30
Running With Lions – £10, £20, £30
Saturday Night Fever – £20, £30, £40
Showstopper! The Improvised Musical – £20, £30
Six – £20, £30, £40
Small Island – £30, £40
Tina: The Tina Turner Musical – £20, £30, £40, £50
Wicked – £20, £30, £40, £50
Witness For The Prosecution – £10, £20, £30, £40, £50
The Woman In Black – £10, £20, £30
Wuthering Heights – £30, £40


A maximum of 10 tickets can be booked per show per cardholder and there's no limit to the number of performances you can get tickets for.

You can choose to receive either e-tickets which you can print or show on your phone, or you can collect them from the box office on the day of the performance. Seat allocations will be visible during the booking process. Shows may increase their allocation of tickets at any time and more shows may be added during the booking period.

Tickets are generally non-refundable unless a show is cancelled, but Official London Theatre says exchanges will be possible where appropriate, for example you can exchange your ticket up to 24 hours before the performance if your booking is affected by Covid – you'll need to fill out the booking exchange form.


50% off London theatre tickets when adults & kids go together

Big discount on 20+ shows, eg, Joseph & the Amazing Technicolor Dreamcoat, Billionaire Boy

After a year off due to the pandemic, the Kids Week theatre promotion is back for 2021. You can get 50% off tickets for 20+ London theatre shows throughout August when adults and kids go together. The offer launched with 30+ shows on 30 June, and while several popular shows have sold out, Kids Week says 100,000 tickets are still available, but you'll need to go quick.


Booking is open online at Official London Theatre.

Who can get 50% off tickets?

Kids Week is designed to encourage families to make trips to the theatre, and the offer runs the entire month of August, so it isn't really a 'Week' despite the name.

As long as there are no more than eight in your group you all get 50% off if you meet this criteria:

Each adult must be accompanied by at least one kid aged 17 or under. So two adults require at least two kids, etc.
However, you can have more kids than adults in the group. It's a max four kids if there's one adult, though you can have more kids if there are more adults, subject to the overall group max size of eight.

You can make a saving of up to £40 per ticket, depending which show and seats you select. In previous years, the offer has been a kid goes 'free' with a full paying adult, and while this year it's 50% off all tickets, you're essentially getting the same deal in terms of what you pay. What's particularly good is there are no booking or postage fees.

Which performances can I get the deal on?

When we checked, shows with tickets still available included Billionaire Boy, Joseph and the Amazing Technicolor Dreamcoat and The Phantom of the Opera – see the full list of shows. Kids Week says there are "thousands of tickets available", and although you can technically book until Tue 31 Aug for some shows, seats for the most popular performances get snapped up quickly.


The deal won't be available for every performance of every show – some exclude their most popular performances. Kids Week says some Friday and weekend performances will be available – you'll be able to see full availability when booking opens, as well as which seats you can select during the booking process.


Tickets are distributed randomly across all dates, shows and seat prices, so it helps to be a little flexible in your choice. If you can't find the tickets you want, it's worth checking back at a later date as in past years we've seen some shows increase their allocation of tickets later into the promotion.

What are my refund rights?

Kids Week says if the performance you book is affected by a coronavirus-related postponement or cancellation, you'll be contacted with the option to exchange your tickets for a future date, a voucher, or to get a refund.

If you're unable to attend the performance you've booked because you've had a positive coronavirus test, or must isolate because you've been in contact with someone who has, you can exchange your ticket for a future performance providing it's no less than 24 hours before the performance start time. You aren't normally entitled to a refund if you've just changed your mind.

Full list of shows for this August:

Select a show above to check its age suitability.