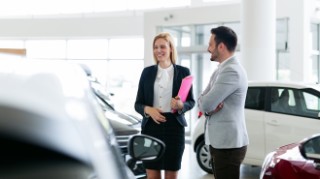 20+ Tips on Buying a New Car
Bag the latest model & use our checklists to avoid rip-offs
If MoneySaving is your goal, buying a brand spanking new car off the factory line is no way to put pounds back in your pocket. The moment you drive a shiny new model off the forecourt you'll lose money, typically in the £1,000s.
But if you're still set on getting one, here are our top tips and vital checklists (print them out and bring them with you) for buying – and doing it as cheaply as possible. If saving money is more important than a spanking brand new car, see our 20 Tips When Buying a New Used Car guide.
If you've answered yes, and you and your partner were born on or after 6 April 1935, then you may be entitled to the marriage tax allowance. This allows couples to transfer a proportion of their personal allowance between them.


For the 2021/22 tax year, the marriage tax allowance is £1,260. This means a potential tax saving of £252.

Alternatively, if one of you was born before 6 April 1935, you can get a different married couple's allowance, which is also available to civil partners. See the Government's married couple's allowance calculator to see exactly what you'll get.

Ten per cent of the married couple's allowance is subtracted from your annual income tax bill. If you were married before 5 December 2005, it is automatically worked out using the husband's salary. For couples married on or after 5 December 2005, it uses the highest earner's salary.

Since April 2016, your savings interest has been paid to you tax-free, and the personal savings allowance (PSA) has come into play. The PSA means every basic-rate taxpayer can earn £1,000 interest a year without paying tax on it. Higher-rate payers get a £500 allowance, and additional-raters don't get an allowance.

There's no change to savings allowances in 2021/22.

If you're a low earner, there's another tax-free allowance you get called the starting rate for savings income. This allows you to earn another £5,000/year in savings interest tax-free if you earn less than £12,570/year this tax year. For every pound you earn above this threshold, you lose a pound of savings allowance. For more on this, see our Tax-Free Savings guide.
Also see our MSE car finance guides...
Personal contract purchase: it's flexible, but you won't own the car.
Leasing: it's a long-term car rental agreement that offers low monthly repayments.
Hire purchase: it looks like a loan, but you won't own the car until it's fully paid off.
Personal loans: buy your car with a loan.


For all the latest guides, deals and loopholes simply sign up today – it's spam-free!
Top tips when buying a new car
How much a new car straight from the factory line will cost you will ultimately depend on what car you get. Yet there are plenty of ways you can reduce the final bill.
For all the latest guides, deals and loopholes simply sign up today – it's spam-free!