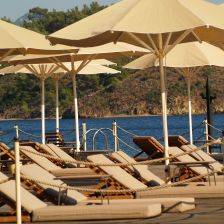 Abbey will reintroduce its Zero credit card on Monday just in time for the holiday season. It is now our top-pick credit card to use overseas.
With the plastic, you will not face the typical 3% foreign loading fee applied to most other cards, where you'll be charged £3 for every £100 you spend overseas. There is also no cash withdrawal penalty.
The next best credit card for overseas use is from the Post Office*. Like the Zero card, there's no foreign loading fee, but you will face a 2.5% (minimum £3) cash withdrawal charge.
As with any credit card, you are charged interest on cash from the moment you take it out, until paid off, so you're best avoiding withdrawals.
The Abbey Zero card was previously available until pulled in March, when the bank launched the Abbey Credit Card that offers interest-free balance transfers for 15 months, with a fee of 3% of the amount transferred. That card is still available but only online or by telephone.
The Zero card is available in branch, over the telephone or online.
Dan Plant, money analyst at MoneySavingExpert.com, says: "If you're travelling abroad, Abbey Zero is currently the cheapest credit card to spend on, as it casts off the fees that most cards levy. Always pay it off in full, though, or the interest cost will eclipse the savings."
The best debit card for overseas use is from Nationwide. With its plastic, there's no cash withdrawal fee and no foreign loading fee in most European countries.
Outside most European countries, it's fee-free until 1 June, at which point you'll then be charged a 0.84% foreign loading fee. From 1 July, that charge rises to 1%.
* Using these links helps the site stay ad-free and free to use, as they're 'affiliated links' which invisibly take you via price comparison services like Moneysupermarket or affiliate sites, this then means if you end up getting a product this site gets revenue.

You shouldn't notice any difference, the links don't impact the product at all and the editorial line (the things we write) is NEVER impacted by the revenue. If it isn't possible to get an affiliate link for the best product, it's still listed in the same way. The following Post Office link is an identical unaffiliated link provided for the sake of transparency. Click on the following link for more details on how this site's financed.