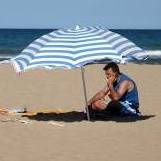 Anyone can make mobile calls and send texts when in Europe or Down Under this summer without paying any additional charges.
Vodafone contract and pre-pay customers will be able to talk, text and send picture messages from most European countries, plus Australia and New Zealand, and pay their UK rate if they're signed up to its free Passport scheme.
There's also a loophole for non-Vodafone customers to sign-up and slash holiday call costs.
No charges
Under the scheme, you can use available calls or texts within inclusive packages, meaning no expensive overseas costs from 1 June to 31 August. The offer applies to all calls or messages to a UK number or within the country you're visiting.
It will be free to receive a call (maximum one hour per call) but the offer does not include using your mobile to surf the internet, which will still cost up to £5/day for 15MB, which could be used up browsing just a few pages.
The Passport plan usually allows users to pay at UK rates, including using their minutes/texts allowance while overseas, but with a 75p charge per call made or received and up to 29p per text sent. It's these set-up charges that are being waived for the promotional period.
Vodafone customers can sign up to Passport by texting 'Passport' to 97888 if they pay monthly or 2345 on pre-pay. If you don't add the package, or if in any non-applicable country, you'll pay up to £1.69p per minute, per call.
Loophole
If you're on another network you can still take advantage of the offer. Get a free Vodafone PAYG sim (including £1 credit) from a Vodafone store to get the discount, but ensure your handset's unlocked. You can top it up, if necessary. For example, £10 gets you 100 minutes and 300 texts.
Of course, that means you'll have a different number when away so make sure you tell close friends and family who may need to contact you.
Archna Luthra, mobile analyst at MoneySavingExpert.com, says: "This deal is a big bonus, though it's a shame it's only for a limited time. Hopefully, it will provoke a response from the other big providers to offer a similar freeze.
"For others, it's possible to substantially slash mobile costs abroad by asking your network provider for special add-on packages or get a travel sim card to use in an unlocked handset."
Business boost
Business customers on 'Anytime' or 'Your Plan' packages get the same deal if signed up to the Passport scheme. If not, they can call their account manager to opt in.
We reported last month that the cost of mobile internet browsing may soon fall when in Europe, though providers are under no obligation to slash prices. However, the cost of calling and texting has been capped.
Separately, from tomorrow, users on Vodafone's 'Simply' pre-pay tariff will pay reduced prices when calling overseas from the UK. Prices will fall, in some cases, from £1.49 a minute to 30p. To get the savings, register for Vodafone's international call plan, by texting 'international' to 2345, or calling 36888.