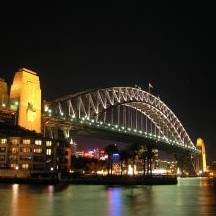 A major Australian bank will scrap overdraft penalty charges in the autumn, in a move which campaigners hope will help UK bank charges victims.
National Australia Bank (NAB) has today confirmed it will abolish the $30 (£15) charge for declined transactions or for going overdrawn without permission on 1 October.
The move will also reportedly mean NAB-owned Bank of New Zealand customers will be spared similar charges of up to $35 (in New Zealand dollars, or £14) from 1 September.
However, the UK's Clydesdale and Yorkshire banks, also owned by NAB, have said they will not scrap their charges.
NAB, the third-largest Aussie bank, says it has taken the action to improve relationships with customers and accepts the 700,000 account holders hit annually with these fees deem them unfair.
See the Bank Charges Reclaiming guide for free reclaiming template letters if you've been hit with charges by Clydesdale, Yorkshire or any other UK bank.
Charges scrapped
Last year, NAB cut the overdraft penalty charge from $50 to $30. It has also promised not to secretly recoup these fees elsewhere.
Lisa Gray, from NAB, says: "Everyday we hear their stories. A customer's pay goes in a day late, gym fees or an insurance premium comes out early, the bank either pays the overdrawn amount or not, but either way, an overdrawn account fee is generated.
"Most of our customers who experience these fees don't think it is fair. Getting rid of them will improve our relationship with customers.
"It will mean our people have more time to spend with customers on the things that really matter."
Will UK banks follow?
Martin Lewis, MoneySavingExpert.com creator, says: "It seems, across the world, penal charges to bank customers are falling out of favour.
"What depresses me is, in the early days during the campaign here, I did a number of Australian radio interviews where there was great interest in whether charges could be stopped there.
"But it seems Britain's big banks have been successful in their delaying tactics and we are very backward in forward-thinking.
"It's to be hoped NAB's move will add more weight to the bank charges campaign here."
UK bank charges claims are currently on hold pending the outcome of a test case to determine whether fees of up to £39 a time are fair. If the costs are deemed exorbitant, it could re-open the reclaiming floodgates.
Test case latest
Last week, City regulator, the Financial Services Authority, granted banks up to another six months to overlook claims because the test case is still dragging on.
However, those in financial hardship can still have their claim heard (more in the Bank Charges Hardship guide). Anyone else should still make a claim now to get their place in the queue.
In the case, the House of Lords is considering an appeal by banks against earlier rulings in the High Court and Court of Appeal that bank charges are subject to fairness laws. A decision is expected in October.
If that appeal fails, the Office of Fair Trading will decide whether bank charges are fair, and it's provisionally stated that charges are unfair.
Fees Down Under
The NAB move doesn't mean its customers will be spared bank charges, full-stop.
While we tend to refer to bank charges in the UK as penalty fees for exceeding your overdraft limit, banks Down Under levy a larger number of charges than their UK counterparts.
These include fees for balance enquiries, money transfers and a greater number of monthly account charges.
Further reading/Key links
Fight back: www.moneysavingexpert.com/bankcharges
Reclaim if you're in hardship: www.moneysavingexpert.com/hardship