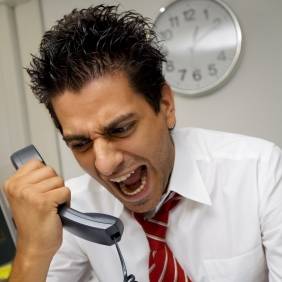 Halifax/Bank of Scotland (Hbos) is facing a customer revolt over new overdraft charges that mean many current account holders will pay far higher fees.
The move to a daily charging system will disproportionately hit those who slip slightly into the red each month the hardest, even if they stay within an authorised borrowing facility (see next week's Free Weekly Email for an Hbos customer action plan).
Someone overdrawn by an average £100 for half the year will pay £180 in fees to the Government-backed bank, compared to around £10 now (see the best Bank Accounts guide).
Those with a £1,000 typical overdraft balance will also pay much more.
MoneySavingExpert.com has been inundated over recent weeks with complaints from angry Hbos customers who have recently received notification of the new charges that come into force on 6 December.

See the How to beat Halifax's overdraft charges MSE News story for how to fight back.
New fees
At present, you generally pay an annual percentage-based fee (19.5% on most accounts) while in an authorised overdraft, so those with tiny overdrawn balances pay very little.
Under the new system, you'll pay a £1 daily fee whether you're 1p or £2,500 overdrawn, with no cap on the number of potential charges.
This rises to £2 per day (with no cap) if more than £2,500 overdrawn.
The daily fee overdraft system is already in place on Hbos's Reward account (which also pays £5 after basic rate tax if you deposit at least £1,000 a month).
The new overdraft charges will apply to all accounts where an overdraft facility is available, other than student accounts, on the changeover date.
This type of charging structure is not exclusive to Hbos. Alliance & Leicester charges 50p per day to use an authorised overdraft but this is capped at £5 per month, making it far cheaper than Hbos.
In addition, anyone who has the Hbos High Interest account will earn no interest on credit balances from 6 December (see the High Interest customers to earn zero MSE News story).
Customer anger
The case of Martin Muir, a MoneySaver from Glasgow, highlights the frustration felt by many.
Martin, a geography lecturer, has a Halifax account which used to have a £600 overdraft limit. On his August statement, he was warned of a minimal 5p charge for slipping overdrawn by £2 for a week.
Under the new system, he'd be charged £7, or £84 if replicated over the year.
He cancelled his overdraft once he received the new charges notification, and bills will now come out of his wife, Anna's account.
Martin says: "I feel strongly what Hbos is up to is wrong. This is all done in the name of 'clarity' but I think it is outrageous.
"I am sure Hbos is unfairly creating extra fees for the majority of customers."
Dan Plant, MoneySavingExpert.com money analyst, says: "While the charges are more transparent than the previous system, they now whack those who only stray a tad overdrawn disproportionately harder, which seems unfair."
The table below highlights how the effect of the changes.
Hbos authorised overdraft charges

Old system

(i)

, when overdrawn...
Daily fees system, when overdrawn...
Average overdraft balance
All year
Half year
Quarter year
All year
Half year
Quarter year
£2,500

(ii)

£487
£243
£121
£547
£274
£137
£2,000
£390
£195
£97
£365
£183
£91
£1,000
£195
£97
£49
£365
£183
£91
£100
£20
£10
£5
£365
£183
£91
£10
£2
£1
50p
£365
£183
£91

(i) Based on 19.5% annual interest rate, (ii) Assumes half the period above £2,500 balance
The benefits
As the table shows, some customers deep into their overdraft could pay less.
In addition, as part of the new charging structure, Hbos is reducing fees if you slip into an unauthorised overdraft (see the Hbos slashes bank charges MSE News story).
You'll now pay £5 a day for every day you exceed your limit (with no cap) no matter how many transactions are attempted or how deep into the red you go.
You are currently whacked with fees of up to £35 per transaction if you exceed your limit, which could total £133 a day (see the Bank Charges reclaiming guide).
An Hbos spokeswoman says: "We have asked customers who regularly use their overdraft to contact us so we can review their banking needs and ensure they are in the best account for their circumstances.
"We would advise any customer concerned about these changes to get in touch with us – we will do everything to help."
See next week's Free Weekly Email for an Hbos customer action plan.
Further reading/key links
Top accounts: Best Bank Accounts
Reclaim cash: Bank Charges