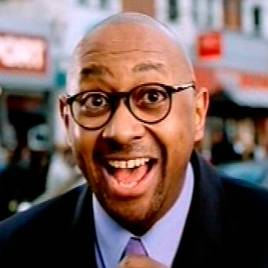 Halifax/Bank of Scotland (HBOS) customers who hold the bank's 'High Interest' current account will soon earn absolutely no interest on credit balances.
HBOS, part of the Government-owned Lloyds Banking Group, is moving anyone with that facility to its new Current Account on 6 December (see the Best Bank Accounts guide), which offers no reward for those in credit.
In February 2007, the High Interest account (marketed by former Halifax front-man, Howard, right) paid 6.2% pre-tax interest on credit balances up to £2,500 and came with a £100 sign-up bonus.
However, it now pays just 1% interest but even that miserly return will soon disappear.
Many MoneySavers would have signed-up to the account after it was included in this site's free weekly email at the time (find out how to get the weekly email).
For them and millions of others in dinosaur accounts, it's time to switch.
Alternative accounts – if regularly in credit
There are three top accounts, depending on your circumstances:
Alliance & Leicester's (A&L) Premier Account offers a £100 sign-up bonus, a 0% overdraft for 12 months and annual European travel insurance for the under-65s, if you earn over £6,050 a year and pay your salary in.
Those earning over £23,000 a year who pay their salary in can get paid £100 by signing up to First Direct's 1st account.

The HBOS Reward account pays £5 a month after basic rate tax if you deposit a minimum £14,700 salary, regardless of balance. While beaten by First Direct and A&L in year one, the £5 payment is ongoing.
Alternative account – if regularly overdrawn
Because of the 0% overdraft and £100 sign-up bonus, the A&L Premier account is best for those in the red, though you'll need to meet the bank's credit score criteria to get a borrowing facility.

If you're regularly over your agreed limit, do a budget to keep track of your money using the Budget Planner tool. If you're in dire straits, read the Debt Help guide.
New HBOS overdraft charges
From 6 December, all HBOS current account customers (other than those on the Student Account) will pay £5 a day for every day they are in an unauthorised overdraft no matter how many transactions are attempted or how deep into an unauthorised overdraft they go (see the HBOS slashes bank charges MSE News story).
This replaces the current charges structure where you are whacked with fees of up to £35 per transaction if you exceed your limit, which could add up to £133 a day (see the Bank Charges reclaiming guide).
There will be no interest on authorised overdrafts. Instead, you'll pay £1 a day while overdrawn up to £2,500 or £2 per day over that amount.
This arrangement is already in place on HBOS's Reward account.
Last month, fellow Taxpayer-run banks Royal Bank of Scotland and Natwest announced they would cut unauthorised overdraft charges from £38 to £5 a time in some cases (see the RBS bank charges slashed MSE News story).
HBOS says it is writing to High Interest account customers to explain the changes, and advising them the bank offers better alternative accounts.
Further reading/key links
Top accounts: Best Bank Accounts
Inflation-beating savings rates: Savings Accounts
Do a budget: Budget Planner