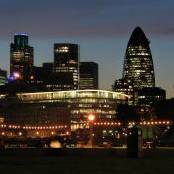 The Office of Fair Trading (OFT) has given up its fight against banks over unauthorised overdraft charges.
While the decision is a massive blow to thousands of consumers hit with fees for exceeding their overdraft limit who had hoped to reclaim their cash, the independent complaints body, the Financial Ombudsman Service, says it will still hear cases from those in hardship.
In addition, the OFT has even stated consumers may still be able to take legal action themselves. Promises have also been made to ensure fair charges in future.
The watchdog lost the landmark Supreme Court test case against current account providers last month. But the judges said it may be able to fight on using a new legal argument immediately after it lost.
OFT chief executive John Fingleton said this morning: "Having considered in detail all the options available to us in light of the judgment, we have decided not to continue what would be a narrow investigation with limited prospects of success."
Over one million consumers have claims on hold. Unless they are in hardship or they alter their claim, it's likely to be rejected.
Hardship hope
The Ombudsman says claims relating to the legality of charges to it are likely to fail but claims from those who stress charges have caused or worsened their hardship may be heard.
It is currently writing to the 15,000 with claims on hold who made complaints to it between July 2007 and the end of November when the Supreme Court ruled, as banks were given permission to sit on charges claims during that time.
Even if your case is considered, it does not mean you will necessarily succeed in getting fees back, though an Ombudsman spokesman says it sometimes orders banks to repay fees in such circumstances.
You may also get your claim heard if you unintentionally slip over your limit and the charge is disproportionate to the 'offence' (eg, you go £5 over but are charged £35).
However, the Ombudsman stresses these cases are not "black and white" while those who continually slip over their limit, not in hardship, are unlikely to be successful.
You can usually only complain to the Ombudsman eight weeks after complaining to your bank or building society or if you've received a firm rejection.
Many current account providers will now start sending rejection letters as the hold on claims is over.
Legal action still possible
The OFT has told MoneySavingExpert.com that consumers can still take action themselves via new legal grounds.
However, the Ombudsman stresses it's best to argue on hardship or human grounds, if they apply, and that legal arguments are only likely to succeed via the courts.
The possible new legal route is different to that argued during the test case.
Before its defeat, the OFT hoped the case would give it the right to decide whether charges, often well in excess of £35 a time, are fair.
But the Supreme Court ruled at the end of last month that charges do not fall under the OFT's jurisdiction, stating they cannot be assessed for fairness (see the Blow as banks win charges appeal MSE News story).
The case was based on a narrow legal argument under the Unfair Terms in Consumer Contracts Regulations. Under the Consumer Credit Act (CCA), there may be another avenue for consumers.
Martin Lewis, MoneySavingExpert.com creator, says: "The OFT told me this morning it looked at taking the case forward under the CCA.
"But because it is about the relationship between individual and lender, it felt it was not appropriate to take it on as it thought individuals taking action would have a greater chance of success.
"This means there is still a strong route for reclaimers but they won't have the weight of a big state institution behind them."
For bank charges updates & help, plus other guides & loopholes, see the spam-free weekly MoneySaving email
Fair charges in future
The OFT still insists many bank charges are unfair. It will discuss these issues with banks, consumer groups and other organisations, and report on progress by the end of March 2010.
The Government also says it will ensure the system of unauthorised overdraft charges is made fairer for consumers in future (see the Bank charges pledge MSE News story).
It said it will work with the OFT and Financial Services Authority to create a new framework for fairer fees, but warned it would take action if a voluntary agreement can't be reached.
Lib Dem leader Nick Clegg says: "Having come so close to overhauling an unfair system of charging that penalises vulnerable groups, I know the campaign will not just stop.
"The Liberal Democrats will continue the fight for fair bank charges in Parliament and push for a change in the law if necessary so high street banks cannot keep ripping off their customers."
Priced out of justice?
Martin Lewis adds: "This decision calls into question the OFT's role as consumer champion – this issue impacts millions and we're in desperate need of clarity.
"Even if it thinks the odds of success are relatively slim, it's in the public interest to pursue the case for a final answer. Backing out at this point leaves the role of fighting for financial justice to millions of the poorest members of society who will now need to fight some of the country's biggest corporations.
"At least the OFT will look at pushing the banks to allow customers to opt out of unauthorised overdraft facilities and look at bank charges for some as irresponsible lending. State-backed RBS, Lloyds and Northern Rock will be almost certain to follow its recommendations.
"And while this independent regulator's let us down, there is still a political will for change.
"Prior to the OFT's involvement, banks ran scared, paying out over a billion pounds. Never forget this wasn't a campaign started by the big institutions of state – it was an armchair internet revolution and that isn't over."
Further reading/Key links
Fight back: Bank Charges