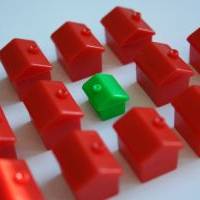 Borrowers with patchy credit records now stand a greater chance of getting a mortgage as lenders quietly introduce more 'sub-prime' deals.
While most high street banks and building societies won't accept an applicant who has missed the odd credit card or loan payment, specialist lenders such as Kensington Mortgages and General Electric (GE), whose deals are often accessible via brokers only, could offer hope.
Yet sub-prime deals – for those with patchy or poor credit records – are much pricier than standard mortgages and often cost thousands of pounds more over the introductory period alone.
Since April, many more such deals have become available, and only this week one lender loosened its criteria further to make its range more widely obtainable.
Lenders are not shouting from the rooftops about their sub-prime range and are keen to avoid describing them as sub-prime as the word has become toxic.
But they have ramped up communication with brokers over recent weeks, intermediaries have reported, in the hope advisers will push these deals to borrowers.
The wide availability of sub-prime mortgages was largely blamed for the onset of the credit crunch. And for a while, they effectively vanished from the UK market.
Stricter lenders
The current crop of sub-prime deals is nothing like the loans available in 2007 and earlier.
Where some were available to those with serious debt problems, with some homeowners allowed to borrow close to or more than the value of their home, conditions are much stricter now.
For instance, brokers say lenders are more likely to accept borrowers hit by a one-off incident such as a relationship breakdown or job loss (where the subsequent financial problems have been resolved) rather than consistent late payers.
David Hollingworth, from broker London & Country, says: "We are starting to see a little bit more activity from specialist lenders but the deals are nothing like what we saw pre-credit crunch. They are for those with much lighter problems."
The availability of such deals may also be limited.
Matthew Fleming-Duffy, from broker Abacus Financial, says: "Lenders are offering this type of product on very strict criteria. This means only a small amount of these mortgages will be available.
"While I would bid a cautious welcome to the return of these mortgages, we must be conscious this type of lending is regarded as high risk."
Some of the sub-prime deals available
You'll pay more if you have had credit problems. Kensington, for instance, charges from 4.99% (plus a £999 fee) for someone with no recent credit problems on a two-year fix, compared to a minimum 5.99% (plus £1,499 fee) for someone with recent missed payments.
Over two years on a £150,000 mortgage, with the fee paid up-front, it will cost £24,683 on the sub-prime deal compared to £22,023 on the standard mortgage – a £2,660 difference.
Kensington launched a range of deals in April for customers with County Court Judgments (CCJs) or missed loan or credit card payments in the past two years. But they can only borrow up to 70% of the value of their home, known as the loan-to-value (LTV).
However, any defaults must have been cleared for at least six months.
Kensington points out it doesn't accept or reject a customer based on a credit score. Instead, individual underwriters assess a customer's ability to repay their mortgage.
Igroup, part of multinational giant GE, also offers deals to those with CCJs or missed payments. This week, it alerted brokers it is raising the maximum LTV allowed from 75% to 80%.
Another lender, MBS Lending, part of Melton Mowbray Building Society, also offers loans to those with three missed payments in the past year or to those with a maximum £6,000 in CCJs over the past two years, but only up to 50% LTV.
Charles Morley, from Kensington, says: "We've all seen evidence of people struggling to meet all of their credit commitments during this recession.
"But even if they get back on their feet they will find it very hard to get a mortgage because of the restrictive credit scoring used by many lenders.
"Kensington can help these borrowers because we make a decision on the customer, not just their credit score."
Further reading/Key links
Mortgage cost-cutting guides: The Remortgage Guide, First-time Mortgage Guide, Cheap Mortgage Finding, Ditch My Fix?
Get help: Mortgage Arrears, Redundancy help