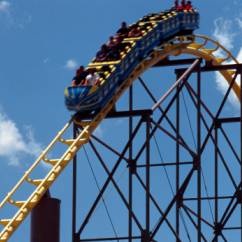 A major supplier of cheap theme park tickets has gone bust. If you're affected, find out here how to get your money back.
ThemeParkTicketsDirect.com, based in central London, ceased trading this week meaning it will not dispatch any more tickets.
It was an agent for attractions worldwide but was particularly popular for those booking Disney days out.
The news will be a particular blow to families with theme park plans during what is now the peak summer holiday period.
However, those who booked tickets that cost over £100 on a credit card, or on a Visa card for any amount, should urgently try and claim a refund.
Ceased trading
Theme Park Tickets Direct's website still appears active but a recorded message on its customer service line says: "We are the outsourced call centre acting on behalf of Theme Park Tickets Direct for the dispatch of attraction tickets.
"We have been advised Theme Park Tickets Direct has ceased to trade and we are therefore not in a position to dispatch your tickets to fulfil your order.
"We suggest you take advice from the card company you used to buy your tickets to claim a refund."
When we tried to contact its head office for further details there was no answer.
Angry customers have contacted us today to say they have received emails from the company stating it has ceased trading.
One customer told us she was assured by Theme Park Tickets Direct on Monday that her tickets would arrive shortly.
The company was one of the cheapest sites for buying these tickets, though in recent weeks reports had come in that it was sending out tickets very late - though until the last few days the tickets had been arriving.
How to get your money back
The good news is that if you booked your card on the right plastic you may still be able to get your money back.
Did you book on a credit card? If so, your card company is jointly liable, under Section 75 of the Consumer Credit Act, with Theme Park Tickets Direct and should give you a refund if individual tickets you purchased cost over £100 (see the Section 75 guide.

If individual tickets came to less than £100 but the order was over £100, it's unlikely you'll get a refund under this directive. However, many Disney tickets are pricey. If you're in this boat and you booked on a Visa card, see below. If you booked on another type of credit card, it's worth trying but there are no guarantees.


Did you book using a Visa debit or credit card? You could get a refund from your card company under the Visa chargeback scheme, with no minimum spending limit. It is not a legal right, just a voluntary scheme the company operates, though you only have 120 days to do so.

Your card company will use the chargeback system to ask the ticket company's bank for the cash back if the product is not delivered. For full details, see the Visa Chargeback guide.

While not so rigid a scheme if you paid on another type of card, you can ask it for a similar refund or to stop payment, but there are no guarantees of success.


Is your plastic provider refusing a refund? If you can't get your money back, try contacting the company's administrator. As yet, we have no details who that is given it only folded within the past 48 hours and there is no information online or by phone.

But keep trying the firm's website over the coming days. Be warned, however, you will be low down the list of creditors as staff and suppliers will be paid first.
Further reading/Key links
Cut costs: Cheap Theme Park Tickets, Cheap Disney Tickets, Cheap Days Out, Restaurant Vouchers