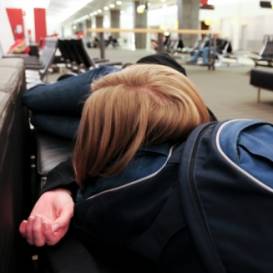 The aviation regulator says many airlines are flouting rules compelling them to offer food and accommodation to travellers stranded by the Big Freeze.
The Civil Aviation Authority (CAA) is taking action to ensure "any unacceptable practices are addressed".
It has written to a number of operators in the UK and overseas to make clear their behaviour is unacceptable (see the The Big Freeze travel rights MSE News story).
It refused to name the offending airlines because it does not yet know how many are guilty of these breaches.
What are your rights?

EU 'denied boarding regulations 261/2004' stipulate that during periods of disruption, airlines must offer refreshments and, where appropriate, put passengers up in hotels.

The CAA stresses if travellers have had to make their own arrangements for hotels and meals while waiting for a delayed flight, they should keep all receipts and make a claim for "reasonable expenses" from the airline as soon as possible.

CAA chair Deirdre Hutton says: "The European Union has put in place regulations to protect people in situations such as this, which not only guarantees people will be looked after, but requires airlines to let people know what their rights are.
"This has not been happening in all cases and it is important that passengers are not being misled."
A number of airlines failed to cover food and accommodation costs during the volcanic ash cloud earlier this year that led to the closure of much of Europe's airspace for days.
MoneySavingExpert.com received numerous complaints about Air France, BMI Baby, KLM and Ryanair at the time.
The CAA is still investigating the apparent failure of BMI Baby, the only UK airline among the quartet, to pay expenses.
Premier price or genuine error?
Meanwhile, hotel chain Premier Inn has denied being a Scrooge after its website quoted over £7,000 for a night's stay near Heathrow airport during last weekend's snow chaos (see the Cheap Hotels guide).
The chain that claims "everything's premier but the price" insists a "technical glitch" at eight of its hotels meant the decimal point was missing from advertised prices for a few minutes last week.
One MoneySaver was shocked to find the price last Sunday at the Twickenham East hotel at £7,189 a night and £6,000 at nearby Kew.
He thought "they are obviously trying to rip off stranded passengers at Heathrow".
But the hotel says no-one could have actually paid those over-inflated prices.
Further reading / Key links
Make them play fair: Consumer Rights, Section 75 Refunds
Travel for less: Cheap Flights, Budget Airline Fee-Fighting, Cheap Trains, Cheap Hotels, Travel Insurance