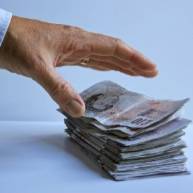 Lloyds Banking Group has taken the unusual step of writing to debt insurance mis-selling victims to offer compensation.
The Government-backed giant plans to contact over 200,000 credit card holders with Halifax-branded cards to either offer payment protection insurance (PPI) redress or waive some exclusions for those who still want cover.
A review by Lloyds – which bought Halifax/Bank of Scotland in 2008 – found that some customers have unsuitable cover (see the PPI Reclaiming guide).
The move is unusual because banks often try to block payouts by rejecting valid complaints, so much so that seven in ten cases that go to the independent Financial Ombudsman Service are settled in the consumer's favour.
The British Bankers' Association (BBA) even started legal proceedings this week to overturn FSA plans to force banks to review past sales of PPI, deigned to cover loan and credit card payments if you cannot work.
Who is affected?
Lloyds has identified 231,000 Halifax credit card customers who took out a card between May 2008 and July 2009.
It has so far written to 3,500, with the remaining letters still to be sent.
What is Lloyds/Halifax offering?
Affected customers will either get a refund of premiums paid, plus interest; or the bank will waive exclusions that were not properly explained when the cover was purchased.
If you still want cover, consider that banks' policies are often mega-expensive so check prices using an independent provider such as Paymentcare.
That said, if Lloyds waives certain exclusions that are typical on other policies, such as allowing the self employed to claim for unemployment, its insurance may offer some of the best cover possible, so weigh up price vs protection.
Aren't banks putting claims on hold?
Most banks, including Lloyds, are freezing claims pending the result of the BBA's legal challenge, which began yesterday.
Lloyds stresses in a statement: "This has no relation to the judicial review as we have proactively made the decision to contact these customers to ensure they have a product that is right for them."
Paul Pester, from Lloyds, adds: "We are sorry for the inconvenience this has caused. We know that protecting an income is an important priority for our customers and we take our obligation to provide that cover just as seriously."
Banks warned over PPI hold
The City watchdog, the Financial Services Authority (FSA), has sent a stern warning to the head of major trade bodies that represent PPI sellers. This includes the BBA's Angela Knight.
It states their members, such as banks, must still hear complaints during the legal process.
It is not the first time the FSA has ordered banks to stop ignoring customer complaints – though such calls usually fall on deaf ears.
The banks' chief argument in the case is that the FSA changed its rule-book last year and now wants lenders to consider past cases on new rules that were not in place at the time of the sale.
The BBA says this is akin to dropping the speed limit from 30mph to 20mph but then issuing tickets to drivers who drove at 25mph even when the 30mph limit was in force.
The FSA says the validity of the original rulebook by any party is not in dispute and most claims should still be assessed against that.
Its letter states: "While the judicial review is ongoing we expect firms to conduct an initial review of all PPI complaints received.
"Where the complaint can be determined as we set out above [under the 'Insurance Conduct of Business' rules on sales from January 2005-onwards] we expect firms to deal with complaints and not place them on hold.
"Failure to progress such complaints could be a breach if firms' responsibilities under complaints handling rules."
Further reading/Key links
Ombudsman guide: Financial Fight Back
Reclaim mis-sold debt insurance: PPI Reclaiming
Other issue-specific reclaim guides: Bank Charges, Credit Card Charges, Direct Debits, Setting Off, Mortgage Arrears, Endowment Mis-selling