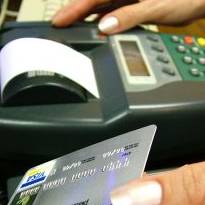 Consumers could pay less in "rip-off" card surcharges if lobby group Which? gets its way.
The organisation has announced it will lodge a super-complaint with the Office of Fair Trading, asking it to investigate surcharges many airlines, cinema chains and even government agencies impose when customers pay with a credit or debit card.
Which? argues the extras, often sprung on the customer at the point of payment, can be far in excess of what it costs retailers to process those transactions.
It estimates the cost to retailers of accepting card payments is a maximum 20p for debit cards and 2% of the transaction value for credit cards. Yet consumers are often charged significantly more.
£40 airline fees
Budget airlines are among the worst offenders, with some charging a fee per passenger, per leg of the journey, even though they only have to process one transaction.
For example, a family of four booking a return flight with Ryanair are charged £40 to pay by credit or debit card (see the Beat Budget Airlines Fees guide).
The same family would be charged £36 by Flybe on a debit card (other than Visa Electron) and £40 on a credit card.
The problem is not limited to airlines. Cinema chains Vue and Odeon both charge transaction fees of 70p and 75p, respectively, per ticket purchased online.
Although both cinemas only charge for online transactions and the fee does not apply to credit or debit card payments made at any till or automated ticket machine.
Even the Driver and Vehicle Licensing Agency (DVLA) charges a flat £2.50 when taking a credit card payment.
Which? chief executive, Peter Vicary-Smith, says: "There's simply no justification for excessive card charges. Paying by card should cost the consumer the same amount it costs the retailer. Companies shouldn't be using processing costs as an excuse for boosting profits.
"Low-cost airlines are some of the worst offenders but this murky practice is becoming ever more widespread, from cinemas to hotels and even some local authorities."
Ryanair's Stephen McNamara says: "Before making 'Super Duper Complaints' the clueless clowns at 'Which, Who or What' magazine, should conduct some basic research. Ryanair does not levy any credit or debit card payment surcharges."
Next steps
Once Which? has submitted its super-complaint, the watchdog has 90 days to respond. Which? last issued a super-complaint in May 2007, when it asked the OFT to investigate the Scottish Legal Services market, a complaint that was upheld.
Which? hopes the super-complaint will result in:
Retailers telling consumers upfront of surcharges in plain English.
Fair charges, costs to consumers should match retailers' costs.
For debit cards, as retailers' fees are so small, Which? hopes retailers will absorb them.
Organisations such as Which? have the power to force regulators to investigate problems they identify.
However, it can sometimes take years for complaints to translate into action. For example, the saga following the super-complaint by Citizens Advice about payment protection insurance in 2005 is still not over.
Providers will only be banned from selling cover within seven days of selling a loan or credit card towards the end of 2011.
MoneySavingExpert.com creator Martin Lewis says: "Bravo to Which?. It's about time this was tackled.
"It's ridiculous that you can buy a family of four £2 each way tickets on Ryanair, but it's £10 per person return for paying on card, five times the actual flight cost.
"Worse still, in the flight market, while there is a way to beat Ryanair's charges by getting a prepaid Mastercard; for other airlines, the loophole is to get a prepaid Electron card but they've largely been pulled from the market recently, so few are available.
"The rule should be simple. If a fee is practically unavoidable it must be included in the main price, not listed as an ancillary. Doing this would encourage companies to drop it straight away as they'll look costly."
If you want to support the campaign, see the Which? website.

Further reading/Key links
Pay less for flights: Beat Budget Airlines Fees
Go out on the cheap: Top Days Out Deals