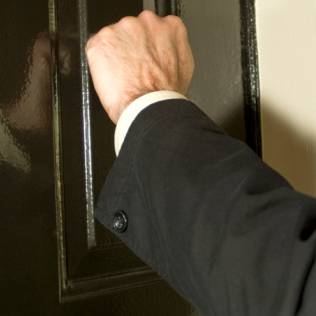 British Gas says it may stop the controversial practice of selling energy by knocking on people's doors.
It says it won't risk its reputation by continuing to flog gas and electricity deals this way, given the market has a reputation for mis-selling, unless the sector cleans up its act.
British Gas managing director Phil Bentley also criticised Scottish and Southern Energy (SSE) after the power giant was found guilty last month of mis-selling during door-to-door sales visits.
The issue related to a sales script, which falsely claimed consumers were paying too much and could save by switching to SSE when the salesmen had no idea if this was true.
Research by energy regulator Ofgem in 2008 revealed just under half of customers who switched supplier following a direct sales approach ended up on a worse deal.
Bentley says: "We have said to Ofgem it must tighten rules on doorstep selling. If it doesn't get its act together we may even stop it because of the reputation impact of mis-selling.
"It was disappointing to see how SSE scripted its sales. We like to think we set the standard. We have lost sales because when someone genuinely cannot save money by switching to us we don't go through with it."
How to stop doorstep energy salesmen
Energy companies agreed last year to stop cold calling households who ask not to be bothered by doorstep salesmen, following pressure from lobby group Consumer Focus and the Trading Standards Institute (TSI).
The two groups said energy agents often ignore families' requests not to be disturbed by unsolicited calls. However, you may still get an energy salesman come knocking if it's not clear you don't want to be bothered.
You can download a 'no cold callers' sign from our Beat Cold Callers guide.
Bentley's comments came in an exclusive interview with MoneySavingExpert.com. See the full interview in tomorrow's MSE News.