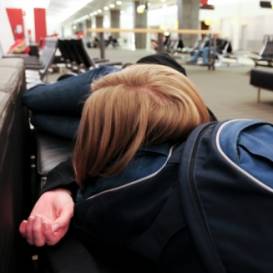 Consumers going abroad in recent years have had to contend with the growing threat of their tour operator going bust, but many don't know their travel rights when this happens.
Earlier this week, 63,000 customers were left in a panic following the collapse of tour operator Holidays 4 U (see the Holidays 4 U collapses news story), but this is a situation consumers are frequently finding themselves in.
While many are protected against tour operator collapses, the bad news is that it can take months to get compensation, which could leave many without funds to buy a replacement trip.
So we've collated everything you need to know about your travel rights for those booking a holiday or those worried about future plans.
Does it make a difference whether I book a package or a DIY holiday?
A package holiday is an all-in-one, where the tour operator provides flights and often connections and accommodation for one price.
The big boon for package deals is they usually have added Atol (Air Travel Organisers' Licensing scheme) protection from the government's Civil Aviation Authority (CAA).
The Atol scheme will protect you for packages that include flights and should also protect some flight-only bookings via a tour operator.
This means if the holiday company fails, either you'll be given a refund or, if you're away, can complete your trip.
However, with DIY holidays, if one of the components fails, there is no protection organisation, which makes things trickier, but in some cases, you'll be able to get your money back from a card company (see below).
What if I have a package holiday without flights?
Here, you are protected under the Package Travel, Package Holidays and Package Tour Regulations.
This means your holiday is not protected by the CAA but by the trade association your travel agent is a member of. In most cases, this will be Abta (Association of British Travel Agents) and this should refund you.
If I book a package is the protection from the travel agent or tour operator?
In simple terms, tour operators make holidays, travel agents sell them. So, one tour operator's holiday may be sold by a variety of different travel agents. When you book a package, it's usually the tour operator that counts.
So if, for example, you went to 'Jolly Travel' and got an 'Airsons Holiday', the main risk is that 'Airsons' goes bust, not 'Jolly Travel'.

It's also worth being aware that sometimes, travel agents put packages together, with separate flights (often Ryanair or Easyjet), hotels and transfers.
While agents call these packages, often they aren't technically, and not all 'packages' booked via travel agents are Atol protected, so always check whether yours is or not. If your holiday is covered, you will get an 'Atol receipt' which is key to knowing if you're protected.
What does Atol protection cover?
Atol is a protection scheme for flights and air holidays, managed by the Civil Aviation Authority (CAA).
The scheme protects you from losing money or being stranded abroad when a tour operator goes out of business. The CAA gives refunds to those who have yet to go away if a firm goes bust and the holiday is cancelled.
It will also arrange for people to finish their holidays and fly home without facing any additional charges.
In some cases, hotels may ask guests to pay for their stay again – they'd have already paid when booking the package – even though the CAA will reimburse the accommodation provider.
The problem is some hoteliers overseas do not understand the Atol protection. The CAA says, if you're forced to pay, keep all receipts and claim the cash back from it when you return.
How long will compensation take?
While you are protected under Atol, it can sometimes take months to get your money back.
For those without spare cash, this could ruin their holidays plans as they won't be able to use the money they originally spent to book a new get-away immediately, in many cases.
Can I get my money back if I pay by credit card?
If you paid for your holiday on plastic that isn't covered by Atol there is a chance you can get money back.
Credit card payments. If you paid over £100 per person, per component of the holiday, under section 75 of the Consumer Credit Act, credit card firms are jointly liable with retailers if something goes wrong. So even if the company is bust, it may be responsible. This is a legal protection so you have strong rights – and it is worth considering paying on a card (cleared in full at the end of the month so there's no interest) to ensure you've got it. However, you will generally have to pay an extra booking fee for doing so.


Visa and Mastercard payments. Visa and Mastercard both operate chargeback schemes, where they get your cash back from the retailer's bank if you don't receive the goods. This is not a legal requirement, but a customer service promise. You must however notify your card company within 120 days.
What if I booked hotels or car insurance separately?
While you are protected through Atol for components that are part of the package, that doesn't cover other services booked.
So if you got a flight under Atol coverage but the hotel direct, it wouldn't compensate you if you couldn't make it to the hotel.
As you booked a room and that room is still available you're also unlikely to have rights to money back from the card company you paid with.
In this scenario, it is worth calling the hotel as it may let you cancel out of goodwill, or switch the dates. Some travel insurance companies may also cover this.

Should I still take out travel insurance?
You should always take out travel insurance as a holiday company going bust is just one small eventuality out of things that can go wrong on a holiday, and in some circumstances, it will help in these cases.

But there are many more reasons to get insurance: sickness, injury, lost baggage, cancellation, volcanoes, personal possessions getting stolen and more.
However, travel insurance only covers unknown events, meaning you won't get a payout for disruption if you buy cover or you travel after you knew of a problem.