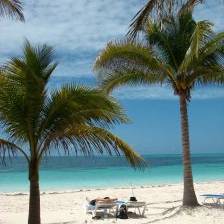 Worried travellers who have booked a trip abroad with beleaguered travel firm Thomas Cook have been left fearing for the safety of their holidays.
Update 20 September 2019: See our Thomas Cook worries? Here's what you need to know story for the latest information.
Many have contacted MoneySavingExpert.com to find out what rights they have if it goes bust.
Thomas Cook, which sells more than 22 million holidays a year in the UK, shocked holidaymakers and investors this week when it revealed it asked lenders for an extra £100 million, just four weeks after it agreed a similar top-up.
The problems have been driven by slow bookings due to a mixture of the economic slowdown, plus unrest and natural disasters in many popular destinations such as Egypt and Thailand.
In light of customer concerns we asked our users on our forum, Facebook and Twitter for what key questions they wanted answering.
We detail the key ones and give you the answers below to what would happen if the company went bust, based on what we've been told by Thomas Cook, travel regulator the Civil Aviation Authority and the Association of British Travel Agents (Abta), of which Thomas Cook is a member.
Is Thomas Cook about to go bust?
It has major debt problems but it is not bust at the moment. Of course, it could go under, it could be sold on the cheap or everything could turn out fine. No-one knows the answer.
The refinancing announcement initially saw shares in Thomas Cook dive 75%.
Shares partially recovered today, rising 20%, but the price is still 93% lower than it was at the start of the year, valuing the company at around £107 million.
Sam Weihagen, Thomas Cook's interim chief executive, insists the company is a "robust business that has a great future".
"We're operating business as usual," he says. "Flights are leaving on schedule, shops are open and we're taking bookings."
What type of holiday do you have?
Before reading on, if you've a booking, check whether Thomas Cook is acting as a travel agent by selling you someone else's flight, hotel or holiday; or whether you have bought a Thomas Cook holiday where it is the tour operator, as this has a major bearing on how you're covered.
I've bought a holiday where Thomas Cook is the travel agent. Am I covered?
In most cases, the future of Thomas Cook is irrelevant to you.
So if you've booked a British Airways flight, a Thomson or First Choice holiday etc via Thomas Cook you should be able to go away as planned.
Either the tour operator, airline or hotel will already have your cash so can provide the service, or it will still offer the service if Thomas Cook has not passed the money over and seek a refund from Abta.
I've bought a Thomas Cook package where it is the tour operator. Am I covered?
If the package includes a flight and I've yet to travel. Here, it will be protected under the Civil Aviation Authority's (CAA) Air Travel Organisers' Licensing (Atol) scheme. This means, if Thomas Cook goes under, you will get a refund.


If the package includes a flight and I'm abroad. It will also be protected under the Atol scheme. If Thomas Cook goes under, you will be able to continue your holiday but the CAA will organise alternative travel and/or accommodation.


Packages without flights. Here, you are protected under the Package Travel, Package Holidays and Package Tour Regulations. The same rules as above apply, except your holiday is not protected by the CAA but by Abta.
The one anomaly is where you buy a Thomas Cook package that includes a flight and a cruise. The cruise itself won't be provided by Thomas Cook but the package will nevertheless be Atol-protected.
I've booked a Thomas Cook flight or hotel outside a package. Am I covered?
Hotel bookings. You are not covered by Atol, Abta or package holiday protection if Thomas Cook goes bust. You may have protection if you paid on plastic, see the 'Did you pay on credit or debit card?' section below.


Flights booked online or by phone. You are not covered by Atol, Abta or package holiday protection if Thomas Cook goes bust. You may have protection if you paid on plastic, see the 'Did you pay on credit or debit card?' section below.


Flights booked at a Thomas Cook shop. These will be Atol-protected. If Thomas Cook goes under, you can continue your holiday if abroad or get a refund if still in the UK.

What if I paid on credit card or debit card?
In some cases, you may be able to reclaim from your card company, depending on which plastic you use (see the Section 75 guide).
Credit card payments. If you pay over £100 per person, per component of the holiday, under Section 75 of the Consumer Credit Act, credit card firms are jointly liable with retailers if something goes wrong so you should get a refund for non-refundable travel or accommodation booked via Thomas Cook, if it goes bust. It is unclear whether gift vouchers are covered. The Office of Fair Trading says this is a "grey area".


Visa or Mastercard debit card payments. The card issuers operate a chargeback scheme, where they get your cash back from the retailer's bank if something goes wrong, regardless of the amount spent (minimum £10 on Mastercard). This is not a legal requirement, but a customer service promise.
What if I've got a Thomas Cook gift voucher?
Unspent vouchers are not covered by Atol if Thomas Cook goes bust.
If you've spent a voucher you get the same protection as if you'd spent cash so the holiday could be protected under Abta or Atol. Therefore, if you have a voucher you stand more chance of a refund if you use it on a protected holiday.
Update, 12pm, 24 November. This section has been updated. It previously said some vouchers were protected under Atol after the CAA gave us incorrect information.
What if I've paid a deposit only?
These would be covered in the same way as paying in full.
Of course, if the holiday goes ahead and you don't pay the difference, you'll lose the deposit.
Won't travel insurance cover you?
Insurance may cover you if your plans are cancelled or for other non-refundable expenses. Yet if your holiday is Atol or Abta-protected, use this guarantee ahead of insurance.
Insurance is complicated so where one policy will cover you, another won't. Check with your insurer, though be aware many won't cover tour operator failure.
Insurance also only covers unknown events so those who buy cover now should still be covered if Thomas Cook goes bust, if protection covers tour operator failure. Though double-check before buying.
If you buy cover after a firm goes bust, the insurance will not cover tour operator failure.
"Martin, would you book Thomas Cook?"
One of the most popular questions was whether MoneySavingExpert.com creator Martin Lewis would book himself, so we asked him.
He says: "I'm not overly panicked by the current financial situation – it isn't good certainly, but the company is not bust.
"What worries me more is the number of questions we've received from people asking 'Should I book?', 'will it go bust?'.
"That means there is the risk of a self-fulfilling prophecy. If people stop booking, then no company can really survive that – so I think the company must do something very loud and strong to provide certainty for those looking for holidays and considering it.
"Yet as many are pressuring me for an answer, in the current circumstances, if I were booking Thomas Cook in its role as a tour operator, if it had Atol protection and offered a much better deal than anyone else, as I've got annual travel insurance – and I would likely pay on a credit card to give me section 75 on top – I would book with that treble protection boost.
"Having said that, remember I'm answering this so as not to cop out. Yet this is my personal answer, not a recommendation. If you're booking, you need to weigh up the risks based on the information and the deals available, plus your financial circumstances."