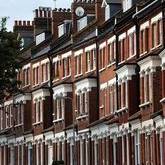 Interest-only mortgages could become harder to get, say brokers, after Santander raised the minimum deposit required to take out the loans.
The Spanish giant will require borrowers have at least a 50% deposit on its interest-only loans, rather than the current 25% from tomorrow, meaning customers will now need double the cash upfront.
So you'd need a £50,000 down payment for a £100,000 home, compared with the current £25,000 required.
Some consumers, especially first-time buyers, prefer interest-only loans as the repayments are much lower than for a standard repayment mortgage. Borrowers only repay the interest monthly, paying off the mortgage itself at the end of the term.
Yet many on interest-only mortgages gamble that they can sell their home to eventually clear the debt, but this is fraught with danger given house prices may fall which could push them into negative equity.
Santander's move has led brokers to question whether other lenders will follow, making it harder for consumers to take an interest-only option given many won't be able to afford such a huge deposit.
Tougher lending criteria
Santander's change makes its interest-only mortgage the hardest to get out of all the large lenders. Halifax, HSBC, Lloyds TSB and Nationwide all require a 25% deposit on interest-only, and a few providers allow just 20%.
Lenders have demanded bigger over deposits in recent years as the credit crunch has bitten.
David Hollingworth, from broker London and Country, says: "The move to a maximum 50% loan-to-value (LTV) by Santander is by far the highest rate needed to secure an interest-only mortgage out of the big players.
"It's just whether other providers will now follow Santander's lead.
"It will certainly force them to review their lending criteria and we could possibly see a shift towards repayment mortgages, which could indicate the demise of interest-only mortgages as lending criteria toughens up."
Other brokers fear this could harm wealthier borrowers for whom they say interest-only mortgages can be beneficial.
Andrew Montlake, from broker Coreco, says: "I understand the need to cut down the amount of people taking out interest-only mortgages without having a suitable payment method in place, but I think Santander's move is a little over the top.
"It has alienated the high-net-worth market where people with bonuses and trust funds often find an interest-only mortgage a plausible method for repaying a mortgage.
"A lot of providers will be looking at this with interest as Santander is a big deal in the market. A change like this would usually have a knock-on effect, although I don't think lenders will follow suit to such a degree.
"It does however send out a message to the rest of the market that interest-only loans may be a thing of the past."
FSA crackdown
As well as the need for borrowers to require higher deposits, lenders are also being told to undertake greater checks on affordability for interest-only mortgages.
They were more widely available before the credit crunch, but lending criteria has got tougher in recent years.
In a bid to stop borrowers taking out unaffordable deals, the Financial Services Authority (FSA) announced proposals last year which include limiting when a homeowner can take out an interest-only deal and ensuring a loan's affordability is properly assessed.
The FSA is also proposing that borrowers will only be able to take out an interest-only deal if they can afford the equivalent payments on a standard repayment mortgage.
It also wants consumers to demonstrate they are saving to pay off the loan and not simply relying on rising house prices or an inheritance to clear the debt.