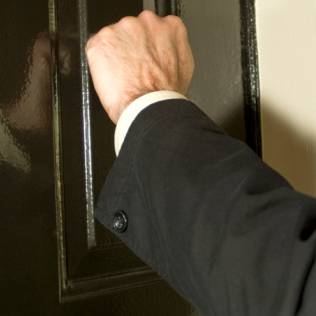 Charities, religious groups and political parties are among the worst offenders of organisations that ignore 'no cold callers' signs, a MoneySavingExpert.com poll has found.
The survey, which saw over 1,600 users vote, names charities as the worst culprits, as 42% of those polled with a sign said they recevied an unwanted knock.
They were closely followed by religious organisations, with 39%, homeware company Betterware, with 25%, then political parties at 22%.
Energy firms featured a lot, with 11% of sign owners saying Npower ignored them. A further 10% named British Gas as a culprit.
This is despite the fact that in 2010, after pressure from Consumer Focus and Trading Standards, the big six energy companies agreed their salespeople would not knock on doors with 'no cold callers' signs.
Last October this officially became part of the EnergySure code of practice. You can also download our free 'no cold callers' sign to do your best to keep companies at bay.
Here is a table of the worst offenders overall:
Which companies ignore 'no cold caller' signs?
Ranking
Firm/sector
% of sign owners cold-called
1
Any charity
42%
2
Any religious organisation
39%
3
Betterware
25%
4
Any political party
22%
5
Kleeneze
18%
=6
Anglian Windows
11.2%
=6
Avon
11.2%
8
Npower
11%
9
TalkTalk
10.9%
10
British Gas
10%
1,684 voted, choosing 3,704 option as they could name more than one.
Archna Luthra, MoneySavingExpert.com consumer analyst, says: "It's shameful, but not surprising some companies are blasé about door signs. If an energy firm breaks the rules and knocks despite a sign, you should be able to get some compensation under the EnergySure Code, so try to make the supplier pay up.

"For all other traders, Trading Standards says it's a criminal offence to ignore signs as by doing so they're in breach of the Consumer Trading Regulations, 2008 – so complain if the company persists."
Top tips to protect against door-to-door sellers
Remember, you don't have to let them in.

Ask to see the salesperson's official ID and find out exactly where they're from.

Don't sign anything, even if they only offering a quote.

A trader must advise you in writing that you can cancel any contract. If they don't, they can't hold you to anything in the contract.

If you buy something when a salesperson calls at home, the Doorstep Selling Regulations give you a seven-day cooling off period on all goods over £35. To cancel, and get a refund, return any goods in reasonable condition (you may need to pay for delivery).