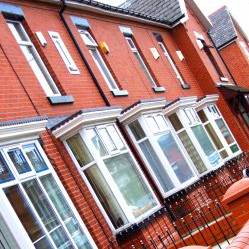 More than a million home owners will see the cost of their mortgage payments increase from today.
The majority of those affected are Halifax customers, who could typically find themselves paying nearly £200 extra a year, following a series of recent rate rise announcements from lenders.
Key Points
Many mortgage payments increase today
More than a million home owners affected
Fears people could struggle to switch to better deal
The Co-operative Bank, Clydesdale Bank and Yorkshire Bank are also among those raising rates from today, blaming the weak economy and the increased cost of funding a mortgage.
Fears have been raised that people could struggle to switch to a better deal as lenders have already started tightening their borrowing criteria, triggering a fall in the proportion of mortgages being approved.
Rate changes
Halifax is raising its standard variable rate (SVR) from 3.5% to 3.99%, affecting 850,000 home owners. Borrowers revert to paying an SVR when their fixed rate deal ends.
The average balance of those affected is £67,500, meaning payments would increase by nearly £16.40 a month to £498.95 on a capital repayment mortgage with 15 years remaining. This equates to nearly £200 extra a year.
Someone with a higher balance of £100,000 would pay £24.30 extra a month, with monthly repayments going up to £739.19, the equivalent of nearly £300 more annually.
Around 54,000 Co-operative Bank customers will see SVR rates go up by half a percentage point to 4.74%, meaning payments will typically increase by £15 a month, or £180 a year.
Clydesdale and Yorkshire Banks' SVR rate will rise from 4.59% to 4.95%, affecting 30,000 customers, whose payments will typically go up by less than £30 a month.
RBS/NatWest is also pushing up the rate on its One Account, a non-SVR product, by a quarter of a percentage point, affecting around 100,000 customers. For the majority of these customers, the new rate will be 4%.
Borrowers 'trapped'
Borrowers who have not managed to pay off much of their loan or are in negative equity could find themselves stuck with their existing lender.
Those with poor credit records could also be trapped.
Ray Boulger, senior technical manager at mortgage adviser John Charcol, says the degree of equity borrowers have in their home will be "the most important factor" for those facing rate rises who want to switch deals.
He adds: "For a lot of people, the rate they are paying now will be lower than a few years ago."
Boulger says that for those who need to borrow between 60% and 90% of their home's value, each additional 5% of equity will be vital in giving access to greater choice and lower rates.
David Hollingworth, associate director of broker London and Country, advises borrowers to get their paperwork in order to ensure they have the evidence to back up any mortgage application.
The Council of Mortgage Lenders (CML) trade body says it has seen "little evidence so far" that borrowers on an SVR are paying uncompetitive rates.
It believes market pressures will keep rates in check as lenders who raise their SVR rates too aggressively risk losing their most creditworthy customers.