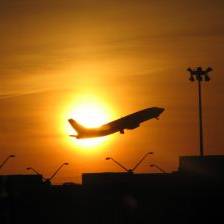 Two budget airlines have scrapped fees for the privilege of paying by debit card, ahead of Government moves to ban surcharges.
Flybe and Thomson Airways no longer levy £9 per person and £3.95 per booking charges, respectively, which were kept quiet until the end of the booking process.
Their moves pile pressure on giants Easyjet and Ryanair to scrap their 'admin' fees. When asked directly if they will, Easjet said it had no plans to.
A Ryanair spokesman said: "Ryanair does not engage in, or comment upon, rumour or speculation."
The OFT estimates that in 2010 UK consumers spent around £300 million on payment surcharges in the airline sector alone.
The Government announced last December it would block firms from levying hidden credit and debit card surcharges to ramp up the price of flights, concert tickets and other goods by the end of 2012.
Businesses will only be able to charge what it costs them to process the transaction.
Consumer lobby group Which? estimates when paying by debit card, the cost to the retailer is 10p to 20p.
The cost of a credit card charge to a retailer is calculated as a percentage of the value. Which? estimates the real cost is no more than 2% of the value.
What do airlines charge?
Ryanair charges £6 per person, per flight (£12 return) to pay if you do not hold its prepaid Mastercard.
Easyjet charges £9 per transaction to use any card, plus 2.5% of the value (minimum £4.95) if you use a credit card.
Both airlines claim they don't levy a surcharge for paying, instead calling them 'admin fees'.
Flybe and Thomson axed their debit card charges in April but still charge for credit card payments.