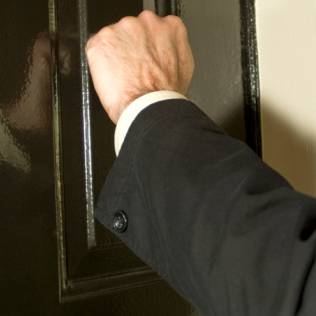 Energy giant Eon is to finally end the controversial practice of doorstep selling, becoming the last of the big six firms to do so.
The company today announced the move is likely to take place "after an appropriate consultation period". It is expected to stop door-knocking in the autumn.
Doorstep sales staff are often accused of mis-selling products with false promises of cheaper bills.
Archna Luthra, MoneySavingExpert.com consumer products analyst, says: "It's great news Eon has decided to stop its door-to-door energy sales as buying on the doorstep is the worst way to switch energy.
"In the meantime, anyone who wants to avoid being sold to at home before the cessation takes effect should print one of our free 'no cold caller signs'. If a company ignores it, complain to the provider and go to the Ombudsman Services, if you get nowhere."
Simpler tariffs
Meanwhile, Eon also plans to simplify its bills and tariffs later this year, as British Gas has already done.
Eon will produce a bill on a single sheet of paper from late summer, which it says will be easier to understand.
From autumn, it will move to a single price per unit of energy on top of a standing charge (which is similar to line rental in the phone industry).
It currently has a two-tier pricing structure, where the first set of units cost more than the rest.
The new structure will be in place from autumn on new 'non-standard' products, which are defined as fixed rate deals and its StayWarm product for older customers.
New 'standard' products will move to the new structure next year.
The way existing customers are charged will not change while any current deal is still in place.
Eon says it is too early for to give specifics about the look of the new bills or what the new rates will be.
British Gas announced last week it switched from a two-tier to single-tier charging on new deals from 22 June. Customers who pay by direct debit will receive a flat 6% discount on the total bill.
It also plans to get rid of jargon and repetition from bills to make them easier to understand.
'Encouraging'
Andrew Wright, senior partner for markets at regulator Ofgem, says: "It is encouraging Eon and British Gas are addressing Ofgem's concerns, where we found competition was being stifled by a combination of tariff complexity, poor supplier behaviour and lack of transparency."
A MoneySavingExpert.com poll last year revealed people wanted simpler tariffs, even if it meant paying a little more.