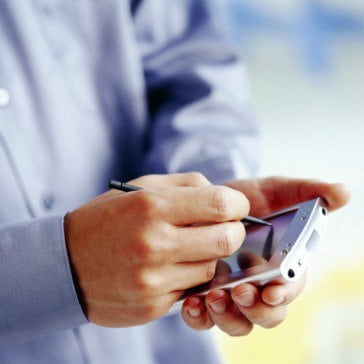 A new era for mobile phone users begins today as superfast 4G products and services are made available to consumers in 11 cities across the UK.
EE, which also runs the Orange and T-Mobile networks, has launched its range of 4G products and services in London, Bristol, Birmingham, Cardiff, Leeds, Sheffield, Edinburgh, Glasgow, Liverpool, Southampton and Manchester.
The 4G network, which offers speeds up to five times faster than 3G, will be available on the Apple iPhone 5 as well as devices from HTC, Samsung, Nokia and Huawei.
But the firm's 4GEE packages typically cost £5 per month more than equivalent 3G deals over the course of a contract. There are also no cheaper packages for low users.
Pay monthly EE deals range from a pricey £36 a month for 500MB of data downloads – the equivalent of two one-hour programmes on the BBC iPlayer – to £56 a month for 8GB of data.
There are no plans for unlimited data downloads, which means customers on certain tariffs will be hit with additional charges if they exceed download allowances. A user looking to download eight one-hour TV programmes a month would face additional charges of up to £180 a year.
EE customers in a further five cities – Belfast, Derby, Hull, Newcastle and Nottingham – will have access to 4G by the end of the year, while the group then plans to roll out the service to other areas next year.
Rivals including Vodafone, Three and O2 owner Telefonica will be able to launch their own 4G services and products from next spring.