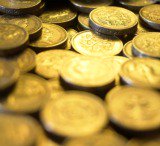 The squeeze on families' spending power was just as strong last month as it was a year earlier, a report found today.
There has been no year-on-year improvement in people's real discretionary wealth, as income growth remained sluggish and spending on essential items grew by 3.2% annually, the Lloyds TSB spending power report says.
Key Points
Families' spending power still squeezed, says report
Spending on food and drink, plus energy has risen
Tough conditions look set to continue
Spending on food and drink was 7% higher than a year ago, showing the biggest increase out of the regular outgoings covered, closely followed by gas and electricity, which was up by 6.1% year on year.
Gas and electricity spending had previously been showing a decline, although households are set to come under further pressure this winter after a string of energy companies announced price hikes.
Scottish and Southern Energy (SSE) and British Gas have already raised prices this winter, while Npower customers will be hit with average increases of 8.8% for gas and 9.1% for electricity today.
Eon is the only big six provider not to have announced price hikes yet. It has guaranteed a price freeze until the end of the year, although that gives it licence to raise them on 1 January.
Meanwhile, spending on car fuel was 3.3% higher, year on year.
'Consumers remain under pressure'
The continued tough conditions were reflected in a decline in optimism among consumers about their spending power in the coming months.
The balance of people who believe they will have more discretionary income in six months, which is the difference between those who think they will have more money minus those who think they have less, fell further into negative territory at minus 9% in October, following a minus 3% reading in September.
Researchers say the decline is being driven by people aged 45 and over. Around a third of people in this age group believe they will have "less" or "much less" money to spend.
Patrick Foley, chief economist at Lloyds TSB, says: "Consumers remained under pressure in October as income growth is barely above inflation.
"Looking forward, the pick-up in automotive fuel and food spending, reflecting recent price rises, suggest that the squeeze may continue until income growth improves."