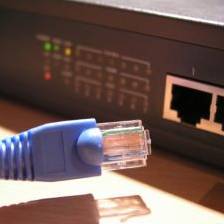 Some BT customers have been told they could have 'super-fast' broadband, only to find their promised service consistently delayed by months.
The advertising watchdog this week upheld complaints against the telecoms giant after it found BT provided customers with "misleading" dates for the availability of BT Infinity in their area.
When we checked for one area in London in August 2012, it said the availability date was September.
But in September, it said December. Earlier this week, it said "January 2013", and today, the service is available to order.
Customers can only order the service when BT Infinity is up and running in their area.
The telecoms giant blames the lengthy delays on "circumstances beyond its control".
EE, Sky and TalkTalk customers have also had to wait, as they use BT's Openreach network to provide their services. However, they say they didn't provide customers with dates, unlike BT.
'Super-fast' broadband is defined by Ofcom as offering speeds of 30Mbps and above. It is not the best package for everyone, but it may suit people who download large amounts or watch TV online.
BT Infinity, launched in early 2010, is currently available in some areas. BT advises customers to use the Openreach website to check when it will come to their neighbourhood.
Advertising crackdown
The Advertising Standards Authority told BT to ensure it only gives consumers a start date for BT Infinity if there are "scheduled plans" for their area.
The ASA reports one complainant was told on 17 October the 'high-speed' broadband in his area had been put on hold, only to be told on the website the availability would be "31 December 2012".
The ASA says: "The claim must not appear again in its current form.
"We told BT to ensure the availability checker only included dates if they corresponded to scheduled plans for Openreach to engineer the BT Infinity service to the corresponding area."
'Dates are indicative'
BT insists it has encountered problems with planning permission, third parties and other complications, such as blocked ducts, delaying delivery of the service.
A spokeswoman says: "Fibre enablement dates for exchange areas included in the programme can be found on the Openreach website, and Openreach is clear that the dates are indicative and subject to change.
"The enablement dates that BT Retail provides to its customers are therefore based on the dates provided by Openreach. BT Retail again states that the dates are indicative."