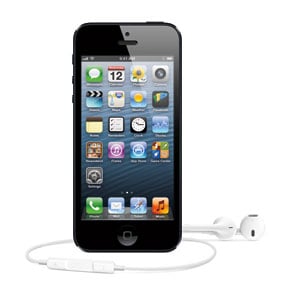 EE has launched a price 'promotion' on its 4G superfast service — but it could end up costing users more.
The mobile giant is cutting the cost for low users by £5/month for a limited time, but is increasing the cost of all handsets during the offer period.
While some will save, users on a 12-month iPhone 5 tariff will find themselves paying £90 a year MORE on the new deal.
EE, parent company of Orange and T-Mobile, currently offers the only 4G service in the UK, which is five times faster than 3G.
However regulator Ofcom has today launched an auction for airspace, which could allow O2, Vodafone and Three Mobile to offer 4G in the coming months.
'Price promotion'
In a bid to lure customers before rival services launch, anyone signing up for the basic EE 4G tariff between 31 Jan and 31 Mar 2013 will get a £5/month discount.
The tables below show a breakdown of the price changes for a top end phone (iPhone 5) and for one of the cheaper models (Nokia Lumia). While users get a better deal on the Nokia, they could pay more on the iPhone.
EE 4G tariff — iPhone 5
Current price
New price
12-mth
24-mth
12-mth
24-mth
Monthly cost

£46/mth

£36/mth

£41/mth

£31/mth

Handset cost

£240

£180

£390

£290

Cost over term

£792

£1,044

£882

£1,034
EE 4G tariff — Nokia Lumia
Current price
New price
12-mth
24-mth
12-mth
24-mth
Monthly cost

£46/mth

£36/mth

£41/mth

£31/mth

Handset cost

£50

FREE

£50

£30

Cost over term

£602

£864

£542

£774
The tariff offers unlimited calls and texts, but only 500MB of data per month. This won't get you much, especially as 4G is all about better downloads, and there's been a lot of criticism from users.
MoneySavingExpert.com news editor Guy Anker says: "This deal just goes to show the importance of properly dissecting the cost of your contract, particularly as mobile deals are not a straightforward price.
"You need to assess both the monthly cost and the price of the handset. Then ensure you're not paying for more minutes than you need, nor paying for too few and risking being charged for each extra call."
An EE spokeswoman says: "Although the iPhone 5 and the Samsung Galaxy S3 handsets are available on the £31 plan, the price plan is principally designed for lower cost handsets such as the HTC One SV and the Nokia Lumia 820. That's where the bigger savings are."
High user deal
EE has also created a new tariff with 20GB of downloads for high internet users.
This is cheapest when taken as a Sim-only deal, at £46/month on a 12-month contract. But factor in the price of an unlocked iPhone 5, and users could spend well over £1,000 over the year.
Only a handful of devices support 4G, including the iPhone 5, Samsung Galaxy S3, HTC One XL and the Nokia Lumia 820.