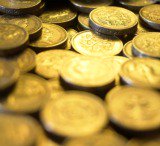 Victims of payment protection insurance (PPI) mis-selling were refunded a total of £411 million in November last year, the latest Financial Services Authority (FSA) figures reveal today.
It brings the amount paid out for mis-sold PPI since January 2011 to more than £8 billion, although the total industry-wide bill is estimated to reach up to £15 billion.
The largest monthly payout to date was £731 million in May 2012.
There has been a jump in compensation payouts for PPI, which covers loan or credit card payments when people cannot work, since the British Bankers' Association (BBA) trade body ended a legal battle in May 2011 which attempted to block the FSA's rules on compensation.
These rules forced banks into reviewing past sales of PPI and made them contact affected customers to offer compensation, even to borrowers who haven't complained.
Earlier this month, the FSA fined the Co-op for putting some PPI complaints on hold during the BBA's challenge of the rules. The regulator said claims didn't need to be delayed until the outcome of the case was known (see the Co-op fined for delaying PPI complaints MSE News story).
The FSA's figures come from the 24 firms responsible for 96% of complaints about PPI sales last year.