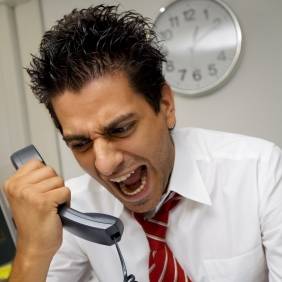 Telephone regulators could be able to investigate more nuisance calls under changes being considered by the Government – which is threatening to license call centres if they don't clean up their act.
In future, nuisance calls may only need to be deemed "annoying" or "inconvenient", or cause "anxiety" for regulators to act. At the moment, they need to cause "damage" or "distress" (see our Stop Spam Calls and Stop Spam Texts guides for help preventing nuisance messages).
The changes are being considered by the Government as part of a crackdown on the industry.
As well as lowering the threshold of when regulators can step in, the Government also plans to stop nuisance callers from concealing numbers.
Regulators will also be able to share information about firms responsible for the calls.
The Government also says it will consider licensing call centres if there is "not sufficient progress" in tackling nuisance calls.
The plans were announced today as part of a "new approach" to communications policy. The Department for Culture, Media and Sport also plans to introduce:
Tough fines for breaching rules covering premium rate phone numbers.
A strict industry code to end "bill shock" – when consumers get unexpectedly high phone bills.
New laws to make it easier for people to switch between providers of bundled services such as TV, telephone and broadband.
Culture Secretary Maria Miller says: "In this digital age, we must ensure the needs of the consumer are not lost in the dash for progress. The changes we are making will put the British public at the heart of the sector."