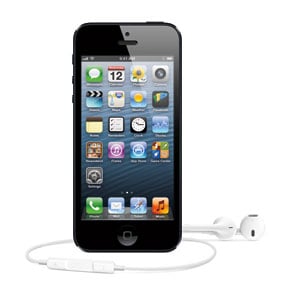 Some iPhone 5 users have been left feeling short-changed after realising their mobile won't work on 4G with O2 and Vodafone.
Both O2 and Vodafone's 4G services will launch on 29 August, giving customers up to five times faster mobile internet than 3G. But both providers say their iPhone 5 users won't be able to use the new service (see our Cheap iPhone guide to get the best deal).
Only EE's 4G network uses frequencies which can be picked up by the iPhone 5.
Angry Vodafone and O2 customers have vented their annoyance on Twitter and the MoneySavingExpert.com forum, saying they believe their handsets were marketed as being "4G ready".
Eeyoresque tweeted: "Just found out iPhone 5 will NEVER be compatible with 4G on Vodafone. Not made clear at all."
Both O2 and Vodafone say they never promoted the iPhone 5 as being compatible with 4G.
Others pointed out that Apple had warned users on its website that the iPhone 5 may not work with all 4G networks.
Forumite NHF said: "When I bought my iPhone 5 from Apple on its launch date [21 September 2012], Apple stated on the ordering screen: 'An unlocked iPhone 5 may not support LTE networks in all other countries; contact service providers for details'.
"At the time, no UK network was offering 4G but it turns out Vodafone and O2 already knew they would not support any of the 4G frequencies of the iPhone 5, and Apple would have known this as well."
At present, Apple's UK website states the iPhone 5 will only work on 4G with EE. The other major mobile provider, Three, is yet to announce its 4G plans.
But if you still think were mis-sold an iPhone 5, perhaps in a shop, then here's some advice on what to do next.
I think my iPhone 5 was mis-sold. What are my rights?
If you have an iPhone 5 on either Vodafone or O2 and believe the phone was sold to you on the basis that it would work on 4G when the network launched its 4G service, you may have been mis-sold the phone and/or contract.
You could argue, if this is what happened to you, that under the Supply of Goods and Services Act 1982, the contract was sold without reasonable care and skill. This would be because either the product's limitations weren't described, or the product was incorrectly described to you.
In this instance, make a complaint to your provider or to the retailer you bought the phone from. It's down to the provider or retailer to decide a resolution – there are no guidelines from regulator Ofcom as to what you're entitled to if your contract was mis-sold.
If you don't get a satisfactory response within eight weeks, you can check if the seller is covered by the Ombudsman Services or CISAS, which deals with telecoms complaints. If it is, refer your complaint to one of them to look into.
I've got an iPhone 5 with O2 or Vodafone and I want 4G. Are they offering any deals?
If you're after 4G with O2, your only option is to pay off your iPhone 5 contract and upgrade to a 4G-compatible phone, such as a Samsung Galaxy S4. O2 says iPhone 5 customers who want to upgrade will get 25% off the rest of their contract.
Vodafone customers can also upgrade to a 4G-compatible phone early. If you got your contract before 30 June, you could get 75% off the rest of your contract if you choose to switch to a 4G phone.
But with both of these 'deals', you're still going to have to pay an arm and a leg to leave your contract, so weigh up the options first.
See our Cheap Mobiles guide for tips on cutting costs.