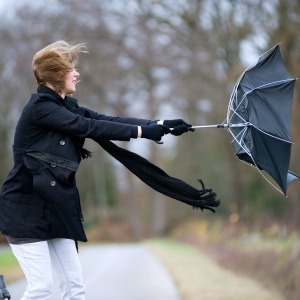 Tens of thousands of homes remain without power after Britain was battered by more treacherous weather conditions and gusts of over 100mph.
Last night, dubbed "Wild Wednesday", saw about 130,000 homes and businesses left without power across the country. About 80,000 properties were still without electricity this morning (see our Cheap Home Insurance guide for tips on cutting costs).
If you've been affected by storms or flooding, either at home or on the move, here are MoneySavingExpert.com's key tips on what to do.
My property has been damaged. What should I do?
If you've emergency damage, such as a smashed window or a gas leak, don't wait to sort the problem. But don't do anything unsafe yourself – call a qualified tradesperson to help fix the damage. The Association of British Insurers says you should contact your insurer first as it should have a 24-hour claims line in operation.
But if you can't get through, or it won't be able to fix the problem quickly enough, arrange to have the damage fixed yourself by calling a plumber, electrician or builder. Make sure you keep any receipts.
As long as you have adequate home insurance, you'll be covered for any damage. It also nearly always includes cover for alternative accommodation if you have no access to your property. Buildings insurance will cover the structure of your home as well as fixtures and fittings, while contents will cover your possessions.
Insurer Ecclesiastical says if your house is in the process of being flooded, you should do the following:
Turn off gas, electricity and water supplies.
Do not touch electricity sources when standing in flood water.
Wear protective clothing and only drink bottled water.
Listen for flood advice.
Evacuate your home if necessary.
What if I plan to redecorate myself?

Don't rush to redecorate your home as it can take weeks for a flood-damaged property to dry out. And don't lift wet carpets unless absolutely necessary, as they may shrink.
How do I make an insurance claim?
You typically have 180 days to make a claim, but it's always best to act as swiftly as possible.
When claiming, you'll have to pay a small amount towards repairs and replacements – known as an excess – so check your policy for full information.
Provide full details of the circumstances surrounding anything that's been lost or damaged, plus any evidence of that. Take photographs of the damage to your home, contents or car, or film the footage. This may help provide proof.
If your possessions have been badly damaged or washed away, any photographs of you with that item when undamaged, or held by friends or relatives, will demonstrate you owned it. Receipts, credit card bills or bank account statements that show your purchases can also be used as evidence.
Importantly, don't throw away damaged possessions without first discussing it with your claims adviser, as they'll need to be assessed.
If vital documents are damaged or destroyed, get copies from the relevant provider. For example, the DVLA for motoring documents, brokers or insurers for duplicate insurance documents, utility providers and the Passport Office. Check Gov.uk for details on how to replace birth certificates.
My power's been cut, am I entitled to any compensation?

In England, Scotland and Wales, if severe weather means you're without electricity for 24 hours continuously (48 hours in some cases), you're entitled to £27 compensation plus a further £27 for each additional 12-hour continuous outage.

You need to claim from your electricity distributor, which is different from the firm you pay your bills to. To find yours, see the Energy Networks Association website.

Write to your distributor with the reason and dates of the problem. You need to complain within three months, so get in touch with it as soon as you can.
My trains have been affected. What do I do?
If your train is cancelled, here are your options.
Can I get another train? If your ticket is open, you can just get on the next train to your destination, whatever the weather. If your ticket is restricted, you can't get on the next train if yours is delayed; but if it's cancelled, you should be able to.

Can I get my money back if I don't travel? Yes, you are entitled to a full refund if the weather means your train can't run so you can't use your ticket. This applies whether your ticket is for a specific train or if it is an open-ended ticket.

How do I claim? You can pick up a form from the appropriate company's stations, or visit its website. Make sure you keep hold of your tickets, as you will need these when applying for a refund. You need to apply within 28 days.
If your train has been delayed, or a cancellation meant you had to take a later train, here are your options.
Technically, you're not entitled to money back where a delay is caused by bad weather. But some firms may still pay out, so it's worth giving these tips a try.
What if I now don't want to travel? You're entitled to a full refund if poor weather means services are disrupted.
What if I'm late arriving? If you travel and the delay is over half an hour, you may be entitled to a refund, but the amount varies. If you're booked on a specific train, you have more rights than if your ticket is open-ended.
How much can I get? The minimum is 20% of your fare for more than an hour's delay. However, you can receive more, depending on the train operator. You may even get cash for delays between 30 minutes and an hour from some firms.
How do I claim? Collect a form from the company's stations or visit its website. Make sure you keep hold of your tickets, as you will need these when applying for a refund. You've 28 days to apply. Refunds are usually in vouchers, unless you didn't use the ticket, in which case you will be refunded via the payment method you used to book.
My flight's been delayed. What are my rights?
If your flight itself is delayed, you aren't eligible for compensation if it's not the airline's fault – for example, if bad weather causes the delay. But if you're held up for more than two hours, whatever the reason, you may be entitled to food, drinks, calls and accommodation. If you paid for these, keep your receipts, then claim. See our Flight Delays guide for full information.
My flight's been cancelled. What are my rights?
When a flight is cancelled, however long before it was due to take off and regardless of what caused the cancellation, you have a right to either a refund or an alternative flight to your destination. See our Flight Cancellation Rights guide for more details.
How can I protect myself from future floods?
According to insurer Ecclesiastical, if you think you're going to be flooded, you should do the following:
Prepare a flood kit of essential items including a bucket, sandbags, a spade and wellies.
Keep an eye on updates from the Met Office and the Environment Agency.
Agree where you'll go if you need to evacuate your home, and how to contact family and friends.
Some further tips include:
Ensure drains and gutters are clear of debris so rainfall can drain away.
Place valuable and electrical items in high cupboards or on high floors to prevent damage.
Ensure outdoor furniture and other items which are likely to float away are safely restrained.
Store important documents in a watertight bag in a dry, accessible place, preferably upstairs.
Make a list of useful numbers you may need – such as your insurer, local council, emergency services and Floodline: 0345 988 1188.
Buy air brick covers or flood boards to block doorways.
Additional reporting by the Press Association.