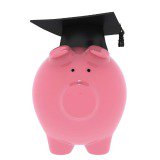 Many customers of Erudio – the firm which manages some pre-1998 mortgage style student loans – have been left baffled over the last few days after receiving debt demands with old dates on them.
Confused graduates have complained both on our forum and on Twitter about receiving backdated arrears statements just a few days before Christmas, which has left them worried about whether or not they owe Erudio for late repayments (see our Should I repay My Student Loan guide if you're struggling).
MoneySavingExpert.com has investigated the issue and discovered the letters have been sent by Erudio for compliance reasons, and the packs received by customers should have a covering letter dated 18 December.
Erudio told MoneySavingExpert that the backdated letters contained within the pack have had to be sent as a result of a previous long-running error made by the Student Loans Company (SLC), which is the Government firm that administered the loans until March 2014.
SLC "potentially" failed to comply with the Consumer Credit Act in some of its previous correspondence and while Erudio was rectifying that error, it was delayed itself in sending out correct arrears notifications. The letters of this week have simply been sent to make sure all graduates have now received the correct correspondence for all periods.
Importantly, the statements received this month don't show a current account balance, so some customers receiving these notices may still be in arrears, while others may have already paid the amounts in the letters off. If you're unsure about where you stand, ring Erudio to get your most up-to-date account balance.
How did this happen?
As the situation is quite complicated, we've explained what's happened in the bullet points below.
In April we revealed that between 2008 and March 2014, the SLC made a long-running error in correspondence sent to borrowers with pre-1998 loans who were in arrears (see the Refunds for 1990s students after loan blunder MSE News story).


As the SLC "potentially" broke the law by failing to disclose arrears correctly, between July and September Erudio sent customers the correct documents, which they should have received at the time (see the Check for Erudio packs in post MSE News story).


Erudio also adjusted account balances to refund all interest payments and charges borrowers paid from the moment they received the potentially incompliant arrears letters until 1 March 2014 when it took over the loans.


But while Erudio was resolving the SLC error some people may have gone into arrears. Where this happened, they received a standard collections letter informing them that they had missed a payment(s). But this didn't include a "notice of sums in arrears", which includes the overall account balance. Erudio says it couldn't send this until it had completed the SLC refund process as it couldn't be sure of the correct account balance until then.


So the packs, which customers have recently received, include a letter dated 18 December 2014 as well as the backdated notice of sums in arrears letters, which customers should have received at the time. These will be dated as per the month they relate to.


However, these packs don't include your current account balance, which is why you should ring Erudio to check if you're still in arrears or not.
Packs related to this latest issue will continue to be sent in the new year.


While Erudio resolved the SLC issue it froze the interest on all accounts in arrears when they were transferred to it from 1 March 2014. Where customers went into arrears after 1 March, the interest was frozen from this date onwards. Interest will begin to be charged again from the 1st of the month after you received this latest pack.
Erudio wouldn't tell us how many customers are affected this time round.
What's happening with the new deferral form?
Separately Erudio says it is still "working hard" to publish the new deferral form and 'how to guide', for those who earn under the threshold to repay their loans, as soon as possible.
MoneySavingExpert.com called on graduates with an Erudio student loan to give us their feedback on the firm's proposed new deferral form in October (see the Are you an Erudio student loan holder? We want your feedback MSE News story).
It has, however, confirmed that the following sentence will not be included in the new form: "Accordingly therefore by submitting this application you confirm that you consent for Erudio to perform relevant checks at credit reference and fraud prevention agencies."
Erudio says that while the new form is still in development it will accept signed copies of the current form with this wording crossed out.
It adds that the signature on the current form was "only ever intended for verification purposes and not to provide additional consent" and that it only carries out credit checks at credit reference and fraud prevention agencies in line with the original loan ts&cs.