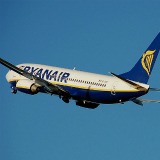 Ryanair – so often the king of unexpected charges – is offering an Easter boost to parents by refunding the value of air tax for young kids ahead of other airlines. This follows the Chancellor's announcement in this week's Autumn Statement that it would scrap Air Passenger Duty for under-12s from 1 May.
The tax is actually levied on airlines but passed to flyers as part of the ticket price.
Ryanair will therefore still pay it to the Government till 30 April, but will discount tickets by the value of the tax for eligible passengers from 27 March, or make equivalent refunds where it has already been charged. This is in time for the busy Easter period (see our Cheap Flights guide to get the best deals).
Under the rules, airlines that have already sold tickets with the charge included must refund these for flights from 1 May for those under 12 at the point of travel.
They must also stop passing on the price of the tax to under-12s on tickets purchased from now for travel from 1 May.
However, it may take airlines a few days or weeks to update their booking systems so they may still sell tickets with the tax included, but this will need to be refunded, where appropriate.
See the How to reclaim Air Passenger Duty airline-by-airline MSE News story for the full details on airlines' refund processes. None of the other airlines we have contacted so far have said they would refund passengers earlier than 1 May.
How much will you save?
As Ryanair flights are all under 2,000 miles in distance, it means parents will save £13 per outbound flight. The charge is £71 per flight for longer journeys.
The budget carrier insists there are no catches to the deal and that the move is the latest in a series of "customer experience improvements".
APD is charged on flights leaving the UK only, not on flights to the UK.
Ryanair to make automatic refunds
Ryanair says refunds will be automatic. Most other airlines have yet to confirm their policy.
It adds that APD refunds will go onto the card customers originally used to make the booking when they check-in for their flight on the Ryanair website.
If your card expires before you check-in and the refund is declined, you'll be contacted by Ryanair and asked for an alternative card.
However, it is still worth checking this has happened.