Free tank of fuel with canny extreme couponing trick
Keep the heat on or invalidate home insurance on Xmas breaks
4% cashback on fuel purchases: is it worth it?
It's Chrissstmasss. Some are Driving Home for Xmas, some are off on their very own National Lampoon's Christmas Vacation and others are leaving their Homes Alone. With the big day approaching, we've A Wonderful List of top tips to cut the cost of travel and protect your home this Christmas...
1. Free tank of fuel via extreme couponing trick. If you're planning a big spend at any one of 50+ retailers (eg, Homebase, PC World) buy the gift card in Morrisons and you get 1p/litre off fuel per £10 spend. So £100 gets 10p off, £1,000ish gets a free tank. Full info, incl pros & cons, in Petrol Gift Voucher Trick.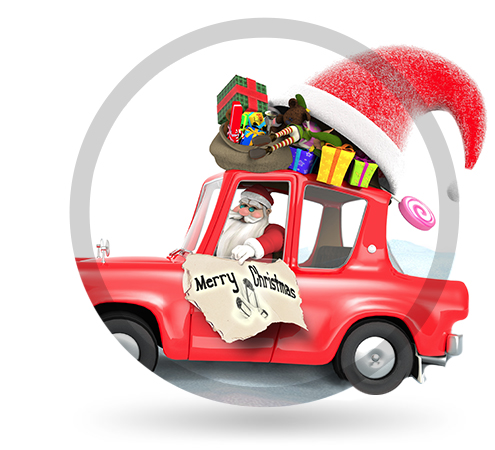 2. Turn your heating down, but not off, if you're going away. If it gets cold, no heating risks burst pipes – so much so some insurers won't cover you for damage if your home's unoccupied for more than five days and you turned the heating off. Rule of thumb is keep it to a minimum 14°C. See Don't turn the heating off when away.
3. Buying two tickets for one train journey can save you £100s. Split ticketing makes no sense, but it works. Eg, a single from Manchester to Cornwall costs £158, but the train stops at Cheltenham Spa. Buy a £52 ticket from Manc to C. Spa then a £58 one from there to Cornwall & the total's £110 - same train, same time, possibly even same seat.

To find if you can do this on your journey use our free Tickety Split tool. Justine tweeted: "You are a genius. Tickety Split has just saved me £50 – no effort, exact same journey."
4. Free winter car check (norm £15) from Halfords. It'll check your battery, bulbs, wiper blades and oil levels, plus top up screen wash for free. See Free winter car check.
5. Cheap boiler cover – you don't need to stick with your energy firm. Boiler cover is a free market, yet energy firms like you to think you have to get it with them. You don't need to. While British Gas charges £12/mth, you can get similar cover for as little as £6/mth. See Cheap Boiler Insurance.
6. Hot home insurance deals comparison sites miss, eg, free £75 M&S vch. Get combined buildings & contents via this Together Mutual* link to get £75 M&S, or use this L&G* link and the code GIFT18 for £65 M&S. The vouchers should arrive within 120 days.
It's important to note I'm not saying these are your cheapest, just they're worth getting quotes from and comparing to the best result from combining comparison sites. It's worked well in the past – Steven emailed: "Many thanks. Just renewed combined house insurance which was £110 but with £80 M&S vouchers – real cost now only £30. Happy days."
7. Cheap Christmas & NY train tickets still on — never think it's too late. Even this close to Xmas, you can still bag cheap advance tickets, eg, Ldn to Edinburgh single £40 on Christmas Eve. And even if you don't know your plans yet, never just assume you'll need to buy at the station - some rail firms still let you book cheap advance tickets (if they're still available) up to 15mins before the journey. See Cheap Trainsfor more tips and tricks.
8. Get a year's breakdown cover for £17. Winter breakdowns aren't fun. Yet basic cover can be cheap with AA/RAC from £17 if you do it right. Or there's AutoAid full service for £42, ie, you get home start and onward travel too.
9. Find where your stop 'male chicken' is. (If we used the correct term, this'd go to your spam box). Everyone should know where their stop-thingy (rhymes with lock – the mains water off-switch) is. Frozen pipe bursts create an avg £4k of damage – worse if you can't find the off switch as your home floods. See How to turn your water off.
10. Can you find sub-£1/litre petrol? Petrol prices are now under £1/litre in some places, but the range is huge. Use Petrolprices.com to find your cheapest, nearest forecourt, eg, in Manchester M20 the range is 99.9p to £1.11, west London is 99.7p to a whopping £1.65.
11. Is 4% petrol cashback card a big winner? The AA's FuelSave* credit card pays 4% cashback on fuel spending if you spend £500/mth in total on the card (2% if not) and it pays 0.5% on other spending – it also gives a free annual MOT. Sounds great except there's a £42 annual fee and cashback is capped at £150/yr.
We've crunched the numbers and in virtually every case, the winner is the fee-free Amex Platinum Everyday* (eligibility calc) card which gives 5% cashback on all spending, incl fuel, in the first three mths (max £100), then rates are up to 1.25% after.
Yet for either card, you must repay IN FULL each month to avoid the 22.4% & 22.9% rep APRs. Full info: Top Petrol Cashback Cards.
12. Drive down fuel costs by 30% without slowing down. The biggest way to save fuel is to change the way you drive. This isn't about slowing down, it's about speeding up more gradually, changing up a gear sooner and road positioning. See 7 cheap petrol driving tricks.

Try it and let me know how it goes, as forumite Techono12 did: "I occasionally drive to see family about 220 miles away. It used to cost me about £80 in petrol return, doing 70-80mph. When I stuck to 55-65mph it only cost £65."
13. Coach is the cheapest way to travel this Christmas. Eg, Ldn to Manc £15 rtn (50p booking fee) between Xmas Eve and NYE. You can even double-up Clubcard pts to use too - see all Megabus Deals for more.
14. Does your home insurance cover Xmas presents? Many policies (but not all, so check) give you a free boost of 10% of your contents cover over Christmas time & other religious festivals, either before or after (some give before AND after). This is to protect those presents you have bought or received.
15. Stay toasty with a sausage dog. Sometimes the best way to hunker down is to keep it low-tech. Make yourself a DIY sausage dog draught excluder, which can be hugely comforting – and see more thrifty tips in the Winter Prep forum thread.
16. Is your energy firm ripping you off? Take five mins to check. If you're on a big six standard tariff, you could save £300/yr by switching, and our test of new MSE team members shows doing a Cheap Energy Club comparison only takes 5m 52s on avg. @rabaldinho07 tweeted: "Just used your Cheap Energy Club and saved £330 a year. Cheers." Do a comparison at Cheap Energy Club.
This content originally appeared in the MSE weekly email on 16 December 2015.
Have your say