A MoneySaver who made the most of banks' hefty switching incentives has told how he netted almost £800 in free cash and vouchers after opening six bank accounts in just over two years. Are you a bigger bank tart – and how do you do it to avoid the pitfalls?
Stephen McNulty, a 31-year-old energy efficiency adviser from Pontefract, West Yorkshire, got in touch to tell us of his extreme MoneySaving success after switching banks again and again. He tweeted:
As his story shows, it's possible to make £100s from 'tarting', or switching bank account – in fact, several at MSE Towers have matched Stephen's success. See the Best Bank Accounts guide for our current top picks – in this article we explain how to do it, plus what to watch out for and the possible impact on your credit file.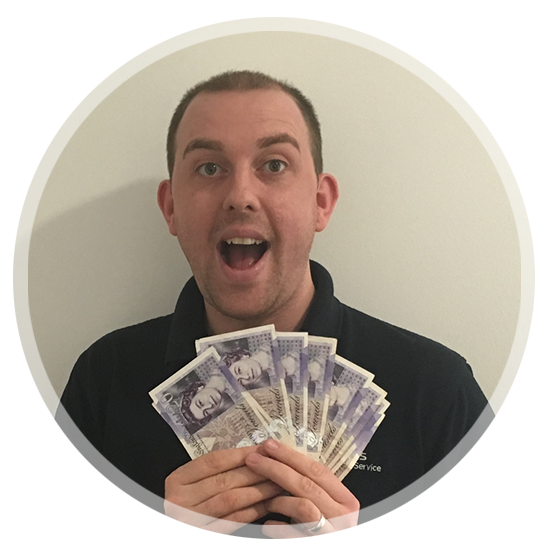 How Stephen did it
Here's the full list of Stephen's switches:
Nov 2013. Stephen switched from Halifax to First Direct – received £100.
Nov 2014. Switched from First Direct to M&S Bank – received £100 M&S voucher.
Jan 2015. Switched from M&S Bank to Halifax – received £100 plus £40 cashback from Quidco and £5 a month for seven months until his next switch.
Aug 2015. Switched from Halifax to the Co-op – received £100 plus £66 cashback from Quidco.
Dec 2015. Switched from the Co-op to Yorkshire Bank – received £150.
Dec 2015. Tried to switch from Yorkshire Bank to HSBC but gave up.
Feb 2016. Switched from Yorkshire Bank to TSB – received £100.
Stephen's grand total? With £550 in straight cash bonuses, plus £106 cashback, a £100 M&S voucher and £5/mth for seven months with Halifax, he's amassed a cool £791 in cash and vouchers in just 27 months.
And Stephen's not alone – several MSE team members have used this trick to good effect.
MSE Megan F earned £800 too, though it took her longer. She opened six accounts over three years – two new accounts at Co-op, plus one each at Halifax, First Direct, M&S and Clydesdale. Meanwhile MSE Sarah M has made £450 so far without ever switching her main account.
Let us know if you think you can beat Stephen's bank switching haul – email your successes to successes@moneysavingexpert.com.
How can you do it?
Update 18 July 2016: Bank switching incentives change regularly, and the ones listed below may have changed since we first published this story in March. For a full up-to-date list of bank switching incentives see our Best Bank Accounts guide.
Right now the big banks are offering switchers a total of £475 in cash or vouchers:
See Best Bank Accounts for full details plus info on each account. Switching bonuses come and go though, so make sure you're signed up to our weekly email to see when banks offer new bonuses or up their incentives.
Here are the key need-to-knows:
Seven-day switching means it's mostly no hassle. Within seven working days, your new bank will switch your direct debits and standing orders for you, close your old account and ensure all payments to it go to the new one. Our snap Facebook poll showed 82% found it 'easy and hassle-free'.
Most require a 'minimum monthly deposit'. But there's nothing to stop you bouncing your cash from one account to another to meet each criteria – you don't have to leave the cash sitting in one account.
Split your direct debits. Many want you to switch at least two direct debits, so if you're opening multiple accounts at the same time, spread them out among your accounts to be eligible.
Track your switch. If you apply online you'll often have to call the bank or return forms for the switch to go ahead – if you don't complete the switch you won't get paid.
Grab your cash THEN go. Some like Halifax pay out very quickly after your switch is complete but others take a lot longer, so don't start your next switch until the bonus is in your account.

Is there a limit on the number of times you can switch bank accounts?
Each current account has its own separate rules, so you need to check the terms and conditions. However, as long as you abide by these, the Financial Conduct Authority says there's no limit to how often you can switch accounts.
Try to pick bank accounts to switch to when they're paying the max, though, because you may have to wait years to do it again, if you can at all. Here are the restrictions the current top payers place on their switching bonuses:
Current account switching rules
| Bank account | Qualification for switching bonus |
| --- | --- |
| First Direct | Can't have switched to First Direct before |
| Halifax Reward | Can't have switched to Halifax since January 2012 |
| Clydesdale Bank and Yorkshire Bank | Can't have switched to Clydesdale or Yorkshire Bank since 17 November 2014 |
| M&S Bank | Can't have previously used the Current Account Switch Service to switch to an M&S current account |
It's also worth bearing in mind that with some of the best deals you don't get the switching incentive cash immediately – in some cases you have to wait up to 70 days.
What about the impact on your credit file?
Switching bank accounts goes on your credit file, and only having short-term bank accounts can have a negative impact. In general Stephen and our other switchers have not found it too big a problem and have been able to get other credit.
Martin Lewis, founder of MoneySavingExpert, says: "The way I would see it is, what do you want to spend your credit file on? If you don't have any plans to borrow or get a mortgage, then why not spend it on making money from bank accounts, if you've no better use for it?
"If you've a mortgage or big credit applications three or four years away, that's fine. Just stop a good year in advance – applications only stay on your file for a year.
"But if you are planning to get a new mortgage imminently, or a big car loan that's more important to you than the free cash from doing this, then be much more cautious about how many accounts you switch to."
See our Credit Scores guide for more info on managing and boosting your credit rating.
Stephen kept an eye on his credit file using the agency Experian and says he didn't notice much impact: "It makes little difference," he says.

Which were Stephen's favourite – and least favourite – accounts?
Stephen says several banks impressed: "Halifax was really good with the £5/mth reward – however TSB is also good with 5% interest and the contactless cashback. Yorkshire Bank provided the best over-the-phone customer experience."
The one which didn't, Stephen says, was HSBC – he tried to switch to claim a £120 bonus but ultimately gave up.
"This was by far the worst switching service," he says. "I cancelled the process with HSBC because it was not hassle-free. After almost four weeks of the account being open I still hadn't switched.
"Unlike all other banks where you can agree to terms and conditions online, with HSBC you have to receive them by post; they then call you to confirm you've read them. When I said 'I'm not reading all this' they said they were unable to offer the switch – so I closed the account."
An HSBC spokesperson says: "A vast majority of customers who switch their accounts to HSBC have a good experience. Each application is different but we work hard to ensure this process is as simple and hassle-free as possible. We are introducing an online switching service later this year."