All Vodafone customers are urged to check their bills for errors after a MoneySavingExpert.com investigation uncovered huge numbers of problems with billing, incorrect tariffs, customer service and other issues – including some reporting that their credit score has been wrongly hit – following the mobile giant's move to a new billing platform last year.
Thousands have complained about Vodafone, with the latest statistics from regulator Ofcom and complaints site Resolver showing that the nearly 20-million-customer-strong company is the most complained-about mobile operator by a significant margin.
But this is likely to be just the tip of the iceberg, as many may be yet to discover problems.
Here we highlight the most common problems and explain what customers need to do to find out if they're affected and what steps to take if so. For full details of the investigation and more detailed advice, see the Vodafone warning guide.
Since publishing the guide yesterday we've also heard reports on Twitter and elsewhere that Vodafone customers have been unable to log in to its website and mobile app. Vodafone told us it was aware of the issue and that it's now been resolved, apologising for any inconvenience caused.
What's gone wrong at Vodafone:
Ofcom. The latest data from the regulator shows at the end of last year it received more than three times as many complaints about Vodafone as any other network – pay-monthly complaints about the firm more than doubled from 14 per 100,000 customers in Q1 of 2015 to 32 per 100,000 in the final quarter.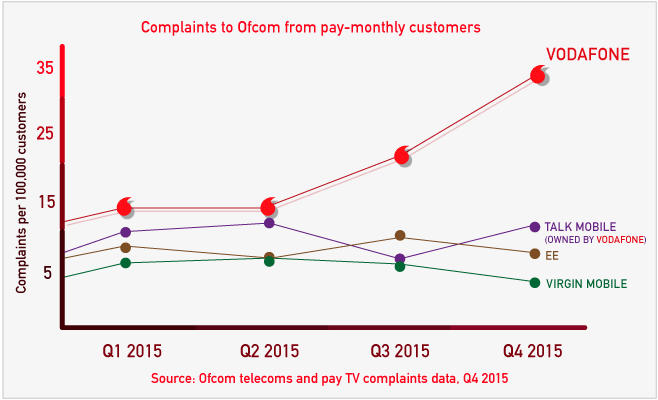 Ombudsman Services: Communications. It's dealt with "an increasing number of Vodafone complaints over the last nine months" and it's working with the company "to identify the root causes of the issues".
Complaints website Resolver says Vodafone's the most complained-about telecoms firm on its site by a wide margin – it had 6,213 cases opened against it between May 2015 and April 2016, more than double the next telecoms firm, TalkTalk.
Since the guide was published we've had users contact us to share their stories, such as:
"I have had ongoing bill problems for six months where they charge me an extra £50 for a phone number I don't have. They say it's a computer error." – Kimberley
"I was overcharged every month for four months and had to call four times each time to get it sorted. Will be leaving them when I can!" – Anna
For more stories on various Vodafone problems, see our guide.

'This is a clarion call'

Martin Lewis, founder of MoneySavingExpert.com, says: "It looks very likely Vodafone has had systemic problems with its billing, direct debits and tariff information after changing its systems. We've seen similar in the past with big energy firms such as Npower and Scottish Power which have left people in the lurch.

"Every Vodafone customer should take the time to check through their bills and bank statements – and if they're wrong, their credit reference files too, to see if everything is all right.

"The thousands of complaints already received about Vodafone are likely to be a drop in the ocean compared with the amount of people likely affected, as most people don't rigorously check their bills or tariffs.

"This is a clarion call as one of Britain's biggest companies, today revealed as its most valuable brand, has frankly cocked-up big time."

'We would like to apologise...'

Vodafone told us: "We would like to apologise to any customers who have been affected by our recent customer service issues… many of the recent issues relate to the move of our legacy billing and services platforms into one state-of-the-art system.

"This was always going to be a highly ambitious and complex programme but the impact of running an IT and a contact centre transformation in parallel was underestimated."

How to check if you're affected:
Check your Vodafone bill – it may be wrong. In particular, make sure you're on the right tariff, check you're getting bills as expected and look for incorrect charges.
Even if your bill's correct, check your bank statements too – some have found the wrong amount's been taken. In particular, check if payment's actually being taken through your direct debits, make sure you're not being double- or triple-charged, and if you've cancelled, check you're not still paying.
Found a problem? Check your credit score too. We've heard of a number cases where a mistake on Vodafone's part has led to credit agencies and debt collectors getting involved – meaning credit scores are damaged as a result.
What to do if you find a problem:
Work out what redress you want – the most important thing is to be put back into the position that you would have been in had the issues not happened. That should mean refund of any overcharges and any expenses directly incurred as a result (eg, bank charges resulting from a fault). Some have also managed to get recompense for the time and trouble, though this isn't primarily about compensation.
Contact Vodafone – call or contact it online and see if it can sort the issue quickly.
If that doesn't work, use free online tool Resolver to lodge a formal complaint – it helps track your correspondence and can escalate your complaint if necessary up the various levels of management at Vodafone.
If that still doesn't work, or it's been more than eight weeks, escalate your complaint to the Ombudsman – if you use Resolver, it will help do this too. The Ombudsman's told us around 60% of complaints about Vodafone in the past six months were upheld.